BCC Research Ranks ThingWorx IoT Platform First with 27% Market Share
NEEDHAM, Mass. — (BUSINESS WIRE) — September 21, 2016 — PTC (NASDAQ: PTC) today announced that it has been named the Internet of Things (IoT) application enablement platforms (AEP) market share leader by BCC Research. With its ThingWorx® IoT platform, PTC has amassed 27% market share through 2015, more than double the share of the next largest provider. The market share figures were reported in BCC Research's Technology Platforms for the Internet of Things report published in June 2016.

BCC Research, a provider of market research reports and consulting in high technology and other fields, recognized ThingWorx for its ability to reduce the time, cost, and risk required to develop IoT applications and accelerate the overall IoT application enablement cycle.
ThingWorx, the centerpiece of PTC's IoT technology portfolio, is comprised of a rapid application enablement platform, connectivity, machine learning capabilities, and augmented reality functionality. These capabilities combine to deliver a comprehensive IoT technology stack that enables companies to securely connect assets, quickly create applications, and innovate new ways to capture and deliver value.
"Being named the AEP market share leader is an exciting validation of PTC's IoT strategy and execution," said Jim Heppelmann, president and CEO, PTC. "We aim to further our market leadership position as we continue on our path to innovate and deliver a robust and comprehensive set of IoT capabilities."
Additional Resources
PTC Internet of Things
ThingWorx IoT Platform
Harvard Business Review: "How Smart, Connected Products are Transforming Companies," authors PTC CEO Jim Heppelmann and Harvard Professor Michael Porter
About PTC (NASDAQ: PTC)
PTC has the most robust Internet of Things technology in the world. In 1986 we revolutionized digital 3D design. Now our leading IoT and AR platform and field-proven solutions bring together the physical and digital worlds to reinvent the way companies create, operate, and service products. With PTC technology, global manufacturers and an ecosystem of partners and developers can capitalize on the promise of the IoT today and drive the future of innovation.
PTC.com
@PTC
Blogs
PTC, ThingWorx, and the PTC logo are trademarks or registered trademarks of PTC Inc. or its subsidiaries in the United States and other countries.
Featured Product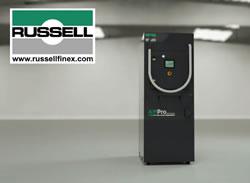 The Russell AMPro Sieve Station™ guarantees the quality of your additive manufacturing (AM) powder, and has been designed to provide optimum sieving efficiency, ensuring your powder is ready for use or reuse as and when you require it. With a simple one-button operation and mobile design, this automated check screener ensures your powder at every stage of the process is qualified for use quickly and safely. The flexibility of the Russell AMPro Sieve Station™ means you can use the system for numerous powder handling tasks - being a modular design ensures the machine can be configured to meet your exact requirements.