Affordable system with a new all-digital servo controller and auto-calibration chip, long-life PICMA® piezo drives comes in 6 different variations optimized for travel range, speed, linearity, and stability.
Piezo scanners are fundamental tools for high resolution microscopy as the rapid response and sub-atomic resolution is instrumental in acquiring high-quality images quickly. As an industry leader in motion and precision positioning products for scientific applications, PI has released a 2nd generation of its successful PInano® product line of high resolution XY/XYZ multi-axis positioning systems. The package includes the piezo scanner, software, and a new, state-of-the art digital controller.

Digital Controller with Fast Focus and Freeze, Automated Scans
The digital servo piezo controller offers the advantage of higher linearity, simple operation, and easy access to advanced features in comparison to conventional analog piezo controllers. It provides responsive real-time tracking, and it supports PI's unique Fast Focus & Freeze capability, where the unit can be bumplessly switched from external (focus) sensor to internal (capacitive, SGS or piezoresistive) sensor, allowing precise, calibrated, stable motions with respect to the focal plane. An all-inclusive software package is included: drivers for LabVIEW, dynamic libraries for Windows and Linux, MATLAB. The system is also compatible with major image acquisition packages, such as MetaMorph, µManager, Andor iQ. Interfaces consist of USB, SPI, RS-232, and analog. Supported functions include Wave generator, data recorder, auto zero, and trigger I/O.
200µm Travel, Millisecond Response Time, Cost-Effective
The easy-to-integrate low profile (20mm/0.8"), long travel of 200µm, and millisecond step time make the PInano II piezo positioning systems ideal for super-resolution microscopy and imaging applications. Microscope slides and Petri dishes are easily accommodated in the large clear aperture. Preloaded PICMA® high-performance piezo actuators feature cofired ceramic encapsulation and provide better performance and reliability than conventional piezo actuators. Actuators, guidance, and sensors are maintenance-free, not subject to wear, and offer extraordinary reliability and cost-effectiveness. In life tests carried out by NASA/JPL for the Mars Mission, the actuators survived 100 billion cycles without failures.
Read Sensor Influence on the Precision of Piezo Positioning Stages >
Watch Nanopositioning Applications for Microscopy, Neuroscience, and Metrology >
Specifications, Datasheet, More Information >
Applications of the PInano II
Fields of applications include microscopy, confocal microscopy, 3D imaging, screening, autofocus systems, surface analysis, and wafer inspection.
Features & Advantages
Low-Cost Piezoresistive and High End Capacitive Sensor Versions Available
High-Speed Version for Particle Tracking
Millisecond Step & Settle
Low Profile for Easy Integration: 20mm (0.8")
200µm Travel Ranges in XY and XYZ
Standard and Custom
In addition to a large variety of standard piezo mechanic stages, PI can quickly modify existing product designs or provide a fully customized OEM part to fit the exact requirements of the application.
Featured Product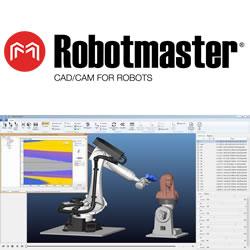 Since Robotmaster V7 uses integrated CAD/CAM functionality, for the first time, the power of Robotmaster can be used by welding, cutting and other process experts without buying or learning complex CAD/CAM software. As in past versions, Robotmaster V7 imports paths, but now makes it even easier for end users to leverage any CAD/CAM tool choice. It is an intuitive tool that anyone could use, with or without robotics expertise. It bridges the gap between robots and manufacturing by providing easy programming solutions for part manufacturing.