The 3D printer manufacturer plans to reveal two new printers by years end, now offers more than 40 machines to serve medical, professional and industrial customers
DEARBORN, Mich.--(BUSINESS WIRE)--EnvisionTEC, a leading global provider of 3D printing solutions, will showcase its expanded lineup of professional-grade 3D printers and materials at more than a dozen trade shows in the United States, Europe and Asia this fall.

The company earlier this year launched three new 3D printers and upgraded the 3D-Bioplotter® Developer series, Aureus 3D printer and the Vector 3SP. Among this years new printer launches:
The SLCOM™ 1, which uses an all-new technology for 3D printing large woven fiber composite objects, launched in May at RAPID 2016, the preeminent event for 3D printing in North America. The machine is an ideal tool to produce prototypes and final parts for aerospace and automotive manufacturers.
The all-new Micro Plus cDLM™, which uses Continuous Digital Light Manufacturing technology, launched in June at JCK Las Vegas, the jewelry industrys premier event. The cDLM, available for sale now, is ideal for any professional making small, detailed objects in which build speed is a top consideration.
The 3D-Bioplotter Starter Series, which is targeted at medical manufacturers and researchers, launched in May at the 2016 World Biomaterials Congress.
"We arent reinventing the 3D printing space - we are inventing it," said EnvisionTEC CEO Al Siblani. "With nearly 15 years of experience in 3D printing and manufacturing, EnvisionTEC is proud to develop and deliver solutions that help a wide variety of professionals and manufacturers bring quality products to market faster and solve real manufacturing challenges."
John Hartner, Chief Operating Officer of EnvisionTEC, said the product launches demonstrate how the company continues to execute on an aggressive growth strategy, which also includes several key relationships. EnvisionTEC is now collaborating with Royal DSMs Somos, a world leader in additive manufacturing material development, and has formed an exclusive strategic partnership with Woburn, Mass.-based Viridis3D, which has developed a Robotic Additive Manufacturing technology for the foundry industry.
"We are excited to show customers around the world how EnvisionTEC continues to offer more solutions for professionals and manufacturers," Hartner said.
The first stops on the companys fall "Made to Matter" tour will be the International Manufacturing Technology Show in Chicago, held Sept. 12-17; the annual meeting of the German Society of Orthodontists in Hanover, Germany, Sept. 14-18; and the TCT Show in Birmingham, UK, Sept. 28-29. The company also will be presenting at Formnext in Frankfurt, Germany, Nov. 15-18. For the full schedule of trade shows, visit Envisiontec.com/madetomatter.
About EnvisionTEC
EnvisionTEC is a leading global provider of professional-grade 3D printing solutions. Founded in 2002 with its pioneering commercial DLP printing technology, EnvisionTEC now sells more than 40 printers based on six distinct technologies that build objects from digital design files. The companys premium printers serve a wide variety of medical, professional and industrial markets, and are valued for precision, surface quality, functionality and speed. EnvisionTECs intellectual property includes more than 100 patents and 70 proprietary materials. Headquartered in Dearborn, Michigan, and Gladbeck, Germany, EnvisionTEC is privately owned by its founder, who is passionate about advancing the field of additive manufacturing. Learn more at EnvisionTEC.com.
Featured Product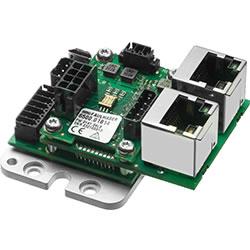 MOTION CONTROLLERS FOR MINIATURE DRIVES AND MICRODRIVES. FAULHABER has added another extremely compact Motion Controller without housing to its product range. The new Motion Controller is ideal for integration in equipment manufacturing and medical technology applications. With 36 V and 3 A (peak current 9 A), it covers the power range up to approx. 100 W and is suitable for DC-motors with encoder, brushless drives or linear motors.