Applications include customized manufacturing tools, prototype elevator parts and customer education devices French company now checking opportunities to 3D print spare parts to expand its service offering Video: Watch video to learn how SODIMAS uses 3D printing not only for training but in the entire product development process
MINNEAPOLIS & REHOVOT, Israel--(BUSINESS WIRE)--Stratasys Ltd. (Nasdaq:SSYS), the 3D printing and additive manufacturing solutions company, today announced that French-based elevator designer and manufacturer, SODIMAS, is reducing turnaround times of its prototype parts by 98% since integrating Stratasys 3D printing solutions in its production line.

According to Stéphane Réau, deputy technical director at SODIMAS, 3D printing is integral to the companys design chain as it allows the team to perfect parts early when iterations are required quickly and cost-effectively. This crucially enables SODIMAS to accelerate its time-to-market and strengthen its competitive edge.
"With Stratasys FDM-based 3D printing solutions, our CAD engineers can send designs directly to the Fortus Production 3D Printer and have the printed parts in their hands in just a few hours for testing," Réau explains. "To put that efficiency into context, using traditional means, we would previously have been looking at around a 15-day lead time before having the part ready to validate for design and fit - so weve basically slashed this from two weeks to two or three hours."
Testing 3D Printed Functional Prototypes Before Manufacturing in Aluminum
After several years of utilizing its Dimension 1200es 3D Printer for the manufacture of small prototype parts, the company saw an opportunity to expand its 3D printing prowess with the installation of Stratasys Fortus 450mc 3D Printer. This has increased the companys prototyping capacity thanks to the large build tray and extensive range of advanced thermoplastic materials, including the high-strength ULTEM 9085 3D printing material.
"All of our lift cabins are made from aluminum, but the concept and development for the frames is achieved using Stratasys 3D printing solutions," says Réau. "We design and produce the parts that are used to assemble the lifts ceiling, walls and floor, simultaneously. Once weve 3D printed each part, were able to quickly check the design and assembly for the correct fit, before proceeding to manufacture the lift in aluminum."
Innovation Going Up with 3D Printed Tools and Production Parts
Another area in which SODIMAS deploys its Stratasys 3D printing solutions is in the production of custom manufacturing tools to maintain production efficiency.
"Weve probably produced upwards of 15 different tools from the super-tough ULTEM material, which have become indispensable to our workflow," continues Réau. "These include jigs used as guides during the fine-tuning of component parts within a larger assembly, where, for example, a line operator might need to quickly remove a specific part, adjust it and then replace it in exactly the same place. This isnt as straightforward as it sounds, but having the 3D printed jig ensures its replaced in exactly the right position and keeps production running smoothly."
For SODIMAS, in addition to its ongoing success using Stratasys FDM 3D printing technology in the current applications, the company plans to harness the full capabilities of its Fortus 450mc 3D Printer for the production of single-run, final production parts in its elevator systems. This, the team hopes, will further bolster its service offering by enabling it to reduce inventory with 3D printed spare parts and create unique, custom designs.
"We will continue to leave the standardized, long-run production to our competitors," explains Réau. "Our goal is to continue to work with those architects and designers who, in some cases, envisage the lift as the signature feature of the large scale projects on which they are working. Should these professionals wish to create, for example, an elaborate custom-made call button panel, then we can confidently say that we have the technology and advanced materials to bring their creative aspirations to reality. The sky really is the limit."
"SODIMAS is a prime example of how Stratasys 3D printing can not only streamline the design process of fit-for-purpose prototypes, but far surpass business prototyping requirements and achieve fantastic manufacturing efficiencies in the fabrication of industrial components," says Andy Middleton, President, Stratasys, EMEA. "This ability to overcome traditional manufacturing constraints and offer engineering flexibility reflects why Stratasys 3D printing solutions continue to empower the next-generation of manufacturers."
For more than 25 years, Stratasys Ltd. (NASDAQ:SSYS) has been a defining force and dominant player in 3D printing and additive manufacturing - shaping the way things are made. Headquartered in Minneapolis, Minnesota and Rehovot, Israel, the company empowers customers across a broad range of vertical markets by enabling new paradigms for design and manufacturing. The companys solutions provide customers with unmatched design freedom and manufacturing flexibility - reducing time-to-market and lowering development costs, while improving designs and communications. Stratasys subsidiaries include MakerBot and Solidscape, and the Stratasys ecosystem includes 3D printers for prototyping and production; a wide range of 3D printing materials; parts on-demand via Stratasys Direct Manufacturing; strategic consulting and professional services; and the Thingiverse and GrabCAD communities with over 2 million 3D printable files for free designs. With more than 2,700 employees and 800 granted or pending additive manufacturing patents, Stratasys has received more than 30 technology and leadership awards. Visit us online at: www.stratasys.com or http://blog.stratasys.com/, and follow us on LinkedIn.
Featured Product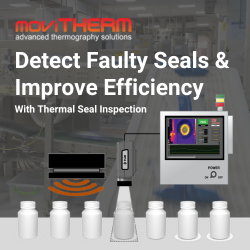 MoviTHERM's Thermal Seal Inspection (TSI) solution provides precise and reliable detection of defects in a variety of packaging types, including pouches, bags, blister packs, bottle caps, and more. By detecting defects in your packages, the TSI solution helps increase efficiency in your production line and ensures top-quality packaging is delivered to your customers every time. With state-of-the-art technology and an experienced team, MoviTHERM is dedicated to delivering accurate inspection solutions and peace of mind to its clients. Contact MoviTHERM today to learn more about their thermal seal inspection solution.