Sept. 14 Press Conference Will Address Major New Initiatives by Taiwan Machine Tool Manufacturers
CHICAGO, Sept. 6, 2016 /PRNewswire/ -- Leaders of Taiwan's machine tool industry will unveil a series of smart manufacturing initiatives for applications ranging from aircraft part machining to automotive component production at a press conference on Wednesday, Sept. 14, at the 2016 International Manufacturing Technology Show (IMTS) at Chicago's McCormick Place. More than 110 Taiwanese companies will also be exhibiting at the show from Sept. 12-17, including 19 in the Taiwan Pavilion, reflecting the country's status as the world's fifth largest exporter of machine tools and components.

Press Conference: New Initiatives in the Taiwan Machine Tool Industry
1:30-3 pm, Wednesday, Sept. 14 - South Building-Level 4, Conference Room S402-A
The press conference will address Taiwan's overall Industry 4.0 efforts as well as specific smart manufacturing developments and new machine capabilities related to aerospace machining, machining centers, gear grinding and finishing machines, engine-case manufacturing, wheel machining automation and more. Topics will include:
A collaboration among Taiwanese educational institutions, research institutes and companies from diverse machinery sectors designed to advance the country's smart machine tool manufacturing capabilities.
An Automatic Virtual Metrology (AVM) real-time online inspection system that eliminates the delays of offline sampling inspection and advances the goal of achieving zero defects.
Smart gear grinding and finishing machines with integrated 4.0 functionality that generates the NC code automatically after data input, enables technicians to change input data settings via Teamviewer or Skype, and can accommodate automatic loading and unloading via robot.
New Industry 4.0 production lines incorporating features such as integrated robot control, real-time remote monitoring, production and quality traceability, and more.
New five-axis horizontal machining centers that are 20% more productive and 20% more cost-effective for manufacturing aerospace engine casings.
Presenters will include representatives from the Taiwan Association of Machinery Industry (TAMI), Industrial Technology Research Institute (ITRI) and the e-Manufacturing Research Center at National Cheng Kung University as well as Taiwanese machinery manufacturers including Fair Friend Group, Luren Precision and Tongtai Group.
Taiwan Pavilion: North Building, Hall B, N-6870-6899
The 19 exhibitors in the Taiwan Pavilion will cover a broad spectrum of the machine tool market. Examples include Grintimate Precision Industry, which will be showcasing products ranging from the CSC-4010-H hydraulic driven auto feed cylindrical grinding machine for plunge grinding, traverse grinding and tapered or contoured grinding to a new digital manufacturing system for optimizing factory management; Super Air Compressor Technology, which will introduce an energy-saving zero air loss auto drain for compressed air systems; and Yong Ju Precision Technology, a member of the AIM Aerospace Alliance and a well-known supplier of advanced double-column machining centers and other large manufacturing machines that deliver the high precision required for aerospace use.
Other exhibitors in the Pavilion will include Apex Precision Technology, Autocam Technology, Best Diamond Industrial, Century Trading, City Tools, Copartner Tech, Donje Industry, Frejoth International, Homge Machinery, Jeton R&D & Mfg., Kontec Precision Industrial, L.K. Machinery, Ya Suh Dar Ventilation, Yager Gear Enterprise, Yeoshe Hydraulics and Zong Yih Rubber Industrial.
Both the press conference and the Taiwan Pavilion are organized by the Bureau of Foreign Trade and implemented by the Taiwan External Trade Development Council.
About Taiwan Machine Tools
As the world's fifth largest exporter of machine tools and components, Taiwan has averaged $4 billion in exports for each of the last three years from a network of more than 1,000 precision machinery manufacturers and 10,000-plus downstream suppliers. Nearly 80% of the total machine tools output last year was exported to over 138 countries, helping solar energy plants, major semiconductor manufacturers, panel industries, multinational car makers and many others innovate and increase their competitiveness through advanced machine tool products
The U.S. is the second largest export market for Taiwan machine tools after China/Hong Kong. In 2015, Taiwan supplied 11% of the machining centers, 10% of the lathes and turning centers, and nearly tied Italy for third place in machine tool imports sold in the U.S.
About Taiwan External Trade Development Council (TAITRA)
Founded in 1970 to help promote foreign trade, TAITRA is the foremost non-profit trade promotion organization in Taiwan. Jointly sponsored by the government, industry associations, and several commercial organizations, TAITRA assists Taiwan businesses and manufacturers with reinforcing their international competitiveness and in coping with the challenges they face in foreign markets. The organization has a staff of over 700 trained specialists stationed in its Taipei headquarters and domestic offices in Hsinchu, Taichung, Tainan, Kaohsiung, as well as in 60 offices around the world. For more information, visit http://www.taiwantrade.com.
Featured Product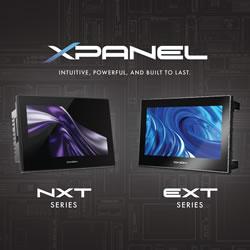 Introducing the Xpanel eXT and nXT series, advanced industrial HMI solutions that set a new standard for performance and usability. Utilizing our brand new Canvas HMI software for project creation, the Xpanel eXT and nXT series deliver a seamless and efficient user experience. They combine industrial-grade touch technology, powerful embedded OS hardware with a quad-core CPU, and an easy-to-use runtime platform. The Xpanel eXT and nXT series are specifically designed to optimize and streamline industrial operations, enhancing your HMI experience.