"MFGredefined" theme takes center stage at conference for manufacturing industry leaders
CLEVELAND--(BUSINESS WIRE)--In just a little over a month, hundreds of women in manufacturing from around the country will make their way to Music City for the sixth annual Women in Manufacturing™ (WiM) SUMMIT, a national three-day networking and educational event. From September 19 - 21, 2016, Nashville will play host to this one-of-a-kind conference, specifically designed to support, promote and inspire women who have chosen a career in the manufacturing industry. Attendees will experience inspiring keynote presentations, participate in industry roundtable discussions, see first-hand innovative manufacturing processes, connect and collaborate with peers, and much more.

Registration is currently open on the WiM website.
The SUMMIT program theme this year is "MFGredefined" and the agenda was planned with an eye toward the future of manufacturing and the women who will make up its workforce.
"The concept of "MFGredefined" was inspired by our Hear Her Story series, which features remarkable WiM women from every part of the manufacturing industry," said Allison Grealis, president and founder of WiM. "A few key words pop up in nearly every story - for example, 'innovative', 'diverse', 'challenging' and 'rewarding.' Women working in manufacturing are defying stereotypes, taking leadership roles and finding success. This year's SUMMIT is all about celebrating the women who are championing all that the industry has to offer."
Among the highlights of the SUMMIT will be presentations by high-profile women from top-tier companies, including:
Wamwari Waichungo, PhD, vice president, global scientific & regulatory affairs, The Coca-Cola Company
Emily Smith, senior product manager, Etsy Manufacturing
Amy Elliot, PhD, research scientist, Oak Ridge National Labs
Amy Meyer, vice president, operating system & supply chain, The Kohler Company
A full list of speakers is available on the WiM website.
The conference kicks off with optional plant tours at some of Nashville's most advanced manufacturing facilities, including General Motors, Bridgestone Americas, Inc., the Tennessee Bun Co., Nissan and Lochinvar. Plant tours are always a highlight of the event, and plant tour selection is included in the SUMMIT registration on the WiM website.
Also, for the first time ever, attendees of this year's SUMMIT will have the opportunity to participate in the award-winning Minute Mentoring® program, where manufacturing industry leaders and rising stars will come together for rapid-fire, small group advice sessions. Taking a cue from speed-dating, Mentors will impart their tips for success to a small group of Mentees during a ten-minute meeting before moving on to the next Mentee group. During this rewarding workshop, participants will share their advice and experiences while developing their own careers and pursuing their leadership goals.
"Our partnership with Minute Mentoring® is an exciting addition to our SUMMIT program this year," said Sheila LaMothe, 2016 WiM Board Chairperson. "One of the things we hear most frequently from our members is a desire for more mentoring opportunities. This unique event will provide a lively, interactive element and facilitate meaningful conversations that will benefit Mentors and Mentees alike."
"It's difficult to be what you can't see," added Grealis. "However, that statement shouldn't apply to manufacturing. This year's SUMMIT will focus on the many women who make manufacturing work. By shining a light on their accomplishments and giving them an opportunity to share their stories, attendees will leave motivated to elevate their own careers."
Generous sponsor support has enabled this year's conference to be the largest yet, with a record-setting attendance goal of 350 attendees. Sponsors include Precision Metalforming Association, Foley & Lardner LLP, BMO Harris Bank, RTH Group, Zurich Insurance, Ingersoll Rand, Fabricators & Manufacturers Association Intl., Alliance for American Manufacturing, Stamtec, Amazon Fulfillment, Plante Moran, Barilla, TRUMPF Inc., Pridgeon & Clay, Stifel Marcin, Zierick, and others. A limited number of sponsor slots are still available. Learn more by contacting Hayley Milloy at 216-503-5700 or hmilloy@womeninmfg.org.
Stay connected with WiM for updates regarding this year's program by visiting the WiM website and following WiM on Twitter - @WomeninMfg, #WiMSUMMIT, #MFGredefined.
Featured Product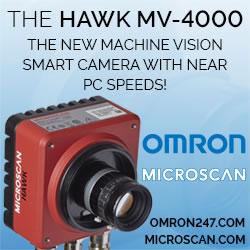 Awe-inspiring power and superior flexibility is sheathed within the contoured casing of the HAWK MV-4000. This smart camera builds upon the previous generation by quadrupling processing power and achieving real-time trigger response using an FPGA. Its state-of-the-art algorithms make it an excellent tool for any industry, whether the requirement be code reading, code verification, inspection, guidance, gauging or a combination of all four.