On July 30 -31 hundreds of makers from across the country will bring their wares, ideas, inventions and solutions to The Henry Ford for the seventh annual Maker Faire Detroit, the Midwests largest two-day festival dedicated to unconventional ingenuity, unbridled creativity and forward thinking
On July 30 -31 hundreds of makers from across the country will bring their wares, ideas, inventions and solutions to The Henry Ford for the seventh annual Maker Faire Detroit, the Midwests largest two-day festival dedicated to unconventional ingenuity, unbridled creativity and forward thinking. Featuring robots, rockets, circuit bent creations, virtual reality, 3D printing, handmade crafts, lifesize sculptures, hands-on activities, demonstrations and much more, Maker Faire Detroit has something for the whole family.

New this year, the giant 15-foot-tall fighting robot Megabot will take over the outdoor midway, firing paintballs at speeds of over 120 mph at a car during demonstrations throughout the weekend. Musician and composer Dorit Chrysler will also be making her Maker Faire Detroit debut, hosting Theremin workshops for guests of all ages showcasing the fundamentals of playing the first electronic instrument that generates sound without being touched. Also new this year, guests can watch Zot Artz create pop-up art expressions using adaptive art tools for children with disabilities. Fans of the Emmy-winning CBS series The Henry Fords Innovation Nation will have the chance to hear from some of the shows featured innovators at Maker Faire Detroit including CHATLight, Cool Peds, Drinkable Book and Soundwave Extinguisher on The Henry Fords Innovation Nation stage
Returning projects this year include the three-story Hot Wheels ramp created by local engineer Matt West and his son Blade that is currently going for the world record for the largest Hot Wheels ramp. Visitors will also have the opportunity to get inside Astroliner, 50-foot motion simulator rocket. Handmade Toledo once again returns to present the handmade arts and crafts portion of this years faire. Eepybird will also return to close out each day with Mentos and Coke.
The faires outdoor midway location will once again take over the Lovett Hall lot located behind the museum. The location provides guests more convenient parking opportunities and easier access to makers located both inside and outside the museum. A shuttle service sponsored by the University of Michigan-Dearborn will also be available at its Fairlane campus located at 1900 Hubbard Dr. in Dearborn. Guests wanting to make the most of their experience onsite can download the free Maker Faire Detroit app via Apple App or Google Play stores. The app includes a schedule, a map, maker descriptions, general faire info and newsfeed with updates from The Henry Ford. It also allows users to quickly build a personalized agenda of what they want to see and do during the weekend.
Ticket prices for Maker Faire Detroit are $28 for adults (13-61), $19.00 for youth (3-12), and $26 for seniors (62+) and can be purchased now. Children two and under are free. Members of The Henry Ford receive 50 percent off admission to Maker Faire Detroit. For more information, visit our website at http://www.makerfairedetroit.com or like us on Facebook at http://www.facebook.com/makerfairedetroit. Maker Faire Detroit is independently produced by The Henry Ford in collaboration with Maker Media. Maker Faire Detroit is sponsored by Ford Motor Company Fund, Pure Michigan Talent Connect and Shell.
About The Henry Ford
The Henry Ford in Dearborn, Michigan is an internationally-recognized history destination that explores the American experience of innovation, resourcefulness and ingenuity that helped shape America. A national historic landmark with an unparalleled Archive of American Innovation, The Henry Ford is a force for sparking curiosity and inspiring tomorrows innovators. More than 1.7 million visitors annually experience its five attractions: Henry Ford Museum, Greenfield Village, The Ford Rouge Factory Tour, The Benson Ford Research Center and The Henry Ford Giant Screen Experience. A continually expanding array of content available online provides anytime, anywhere access. The Henry Ford is also home to Henry Ford Academy, a public charter high school which educates over 500 students a year on the institutions campus. In 2014, The Henry Ford premiered its first-ever national television series, The Henry Fords Innovation Nation, showcasing present-day change-makers and The Henry Fords artifacts and unique visitor experiences. Hosted by news correspondent and humorist, Mo Rocca, this Emmy®-winning weekly half-hour show airs Saturday mornings on CBS. For more information please visit our website thehenryford.org.
About Maker Faire
Maker Faire is the Greatest Show (and Tell) on Earth—a family-friendly showcase of invention, creativity, and resourcefulness, and celebration of the Maker Movement. It's a place where people of all ages and backgrounds gather together to show what they are making and share what they are learning. Maker Faire will celebrate 190 Faires in 2016 in 35 countries around the world. The 11th annual Maker Faire Bay Area welcomed some 1,300 Makers and 150,000 attendees. World Maker Faire New York, the East Coast flagship event, has grown in six years to 930+ Makers and 95,000 attendees.
Featured Product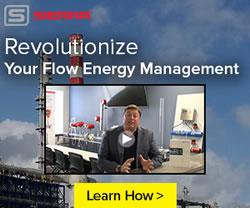 Sierra Instruments announces the launch of its new flow energy solution for managing and optimizing flow measurement for industrial facilities of all sizes. It features Sierra's QuadraTherm 640i/780i thermal flow meters, their InnovaMass 240i/241i vortex flow meters, and their new InnovaSonic 207i ultrasonic flow meter. Designed, built, and calibrated in the USA by Sierra, the Big-3TM share the same revolutionary Raptor firmware and many of the same software apps. They are a complete flow energy solution for flows like compressed air, natural gas, steam, and hot and chilled water. Together, they set a new standard in ease-of-purchase, performance, accuracy, reliability, and ease of use.