Result is a high-performance solution for OEM replacement
TPC Wire & Cable Corp. (TPC) is pleased to introduce a new offering of cables designed to outlast the OEM product used with servo motors. Engineered for superior performance, Trex-Onics® Servo Motor Cables protect motors and related equipment from damage and extend conductor life in dynamic applications. Orange in color and available in four sizes, the cables are compatible with Rockwell/Allen-Bradley, Bosch Rexroth, Indramat, Kollmorgen, Siemens, Lenze, and Mistubishi drive systems.

Trex-Onics® Servo Motor Cables feature a heavy-duty, tinned copper braid to serve as a shield against radiated and conducted EM and RF interference, reducing nuisance noise issues and delivering precision performance. Finely-stranded, tinned copper conductors offer increased flexibility and extend the life of the cable in moving applications. The conductors are also color coded to allow for quick and easy identification. In addition, a specially compounded jacket and insulation translates to a cable that creates a superior line of defense against oil, chemicals, ozone, UV exposure, and extreme weather.
Though TPC routinely develops cable in a yellow color signature to its brand, the company has brought Trex-Onics® Servo Motor Cables to market as an orange product in order to meet the needs and specifications of target industries and customers.
"Were excited to deliver this product to customers, many of whom are familiar with our high-performance VFD cables but which require a product that is both cosmetically and proportionally different for their servo motor systems," said Paul Barras, Product Manager at TPC. "With Trex-Onics® Servo Motor Cables, were able to match the customers color code and their need for a smaller O.D. The result is a high-performance cable that outlasts the OEM product, ultimately reducing downtime and related costs."
Trex-Onics® Servo Motor Cables benefit customers in a variety of markets including automotive, food & beverage, government, utility & alternative energy, mining, oil & gas, transportation, and wood, pulp & paper.
About TPC Wire & Cable Corp.
TPC is a leading supplier of high-performance wire, cable, connectors, and assemblies for harsh industrial environments. Products are designed and engineered to withstand severe abuse from flexing, impact, abrasion, chemicals, and extreme temperatures. TPCs dependable products outlast ordinary cable in the most difficult applications, reducing downtime and overall cost. Visit http://www.tpcwire.com.
Featured Product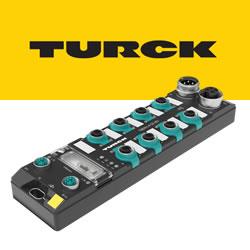 The new IP67 Managed Ethernet Switch from Turck provides standard and Gigabit ports in the same device. Configure, manage, and monitor connected machines and devices remotely, outside of a control cabinet. Find out more about this rugged solution for decentralized control. Part number TBEN-Lx-SE-M2. • Gigabit high-speed backbone for fast link-up times • Standard and Gigabit ports on the same device • Web-based diagnostic tools for preventive maintenance • Built-in security with the use of VLAN, NAT routing and firewall