In the run up to the Next-Generation Collaborative Robots & Automation Technologies Conference - www.next-generation-automotive-automation.com - we have recently conducted an interview with Subaru in which they discussed how next-gen automation technologies and collaborative robotics can improve safety and productivity. A link to the interview can be found below: Steven Eakins, Manufacturing Engineer, Subaru of Indiana Automotive - http://www.next-generation-automotive-automation.com/media/downloads/4-speaker-interview-with-steven-eakins-of-subaru.pdf
In advance of the Next-Generation Collabrative Robots & Automation Technologies 2016 conference (August 17-18, Detroit MI), we spoke to Steven Eakins, Manufacturing Engineer about his perspective as a manufacturing engineer and where Subaru stands when it comes to robotics and automation technologies.

Questions & Answers Include:
In short, Steven, what are you looking to
takeaway from the conference? What are the
main needs and wants for manufacturing
engineers today?
My intent in attending this conference is to
gain a better understanding of how other
companies are implementing new technologies
to safely increase productivity and quality in the
workplace, as well as to better determine which
technologies have best proven their worth in
the workplace. Maximum uptime and process
efficiency are always desired, but these must
also be balanced with the need to work within
industry safety standards without compromising
quality standards.
As a manufacturing engineer for Subaru,
what are the factors you are taking into
consideration as it relates to adopting and
integrating Next-Gen collaborative robots
and automation technologies on your factory
floors?
We at Subaru of Indiana Automotive (SIA)
work closely with our Fuji Heavy Industry (FHI)
counterparts to integrate new technologies
into our manufacturing facility in Lafayette. As
a smaller company in the auto industry, its
important that any new technology is carefully
vetted before any capital investment is made.
This has historically been done in the parent
company facility in Japan, but with our year over
year expanded growth, more of the onus has
fallen on us to take charge of new technology
developments. Adoption of new technologies is
largely dependent on how well this technology
can be integrated while limiting total overall risk
we are willing to assume during any given time
period or model launch.
To read the rest of the interview and find out more about this conference, click here: http://www.next-generation-automotive-automation.com/program-download/
Featured Product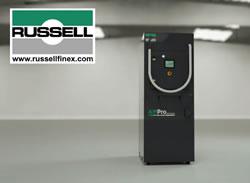 The Russell AMPro Sieve Station™ guarantees the quality of your additive manufacturing (AM) powder, and has been designed to provide optimum sieving efficiency, ensuring your powder is ready for use or reuse as and when you require it. With a simple one-button operation and mobile design, this automated check screener ensures your powder at every stage of the process is qualified for use quickly and safely. The flexibility of the Russell AMPro Sieve Station™ means you can use the system for numerous powder handling tasks - being a modular design ensures the machine can be configured to meet your exact requirements.