3D scanning market size is expected to exceed USD 6 billion, growing at a CAGR of 11.5% from 2015 to 2022.Attributes such as affordability, high efficiency, ability to generate fast and accurate results is to drive the 3D scanning market over the forecast period.
3D scanning market size is projected to be valued at USD 6.05 billion by 2022, as per a new research report by Global Market Insights, Inc. Rising adoption of these systems in various industry sectors, namely, quality control, rapid prototyping as well as reverse engineering is expected to propel industry growth over the forecast period. Growing need to obtain precise and quick results with optimum efficiency is also expected to serve as a key driver.

Latin America 3D scanning market size was valued at over USD 250 million in 2014 and is estimated to grow at a CAGR of 13.9% from 2015 to 2022. Asia Pacific accounted for over 20% of the overall 3D scanning market share in 2014; growing demand can be attributed to technology proliferation across the region.
The industry is expected to experience substantial gains due to mounting prominence in various sectors such as quality archaeology, mechanical dimensional inspection, defense and aerospace. These devices also offer 3D digitization and high resolution over conventional techniques. Surging implementation of this technology in the transport sector for examining the accident scenario by digitizing and simulating the actual event sequence may positively impact the 3D scanning market size over the forecast period.
Complicated installation procedure coupled with high cost of technology is anticipated to hinder the industry over the next seven years. The advent of portable scanners is forecast to present significant growth opportunities.
Key report insights suggest:
3D laser scanning market was valued at over USD 1.5 billion in 2014 and is predicted to be the biggest industry segment. LED is the standard structured lighting technology owing to small size and low heat emissions. Increasing adoption of high performance CMOS sensors against CCD imagers is also expected to favorably impact growth.
Entertainment and media applications accounted for over 9% of the global 3D scanning market share in 2014. The spur in the application sector is mainly due to escalating need for building 3D models for video games, movies, etc. Rapid surge in 3D content coupled with technological development has led to rapid product launches, high-quality images, and video delivery. Industrial manufacturing is likely to grow at a CAGR of 10.9% from 2015 to 2022.
Increasing application in engineering, construction and architecture sectors should facilitate new project development, as well as maintenance and operations of existing property. The technology also plays a crucial role in performing cultural as well as structural assessments, and also assists in supervision of construction activities. Surging R&D expenditure accompanied by growing innovation is anticipated to fuel 3D scanning market growth over the forecast period.
Short range products are expected to maintain their dominance over the forecast period, and are estimates to continue being the most attractive segment. Medium range 3D scanning market accounted for over 30% of the revenue in 2014 and is expected to witness steady demand over the next few years.
Notable industry participants include 3D Digital Corp., Ametek, Basis Software Inc, Steinbichler, and FARO Technologies. Key players emphasize on R&D investments and new product innovation as a part of their growth strategy.
Featured Product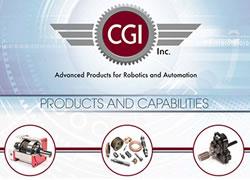 From Prototype to Production CGI Motion enables design excellence across a wide range of industrial applications. We thrive on customer driven innovation in precision gearbox, precision machined components and electro-mechanical assembly solutions ranging from aerospace systems to semiconductor applications. We are your design and manufacturing partner helping to differentiate your product, machine or innovation. Our team of problem solving engineers and product managers can bring your application to market on time and under budget. Whether it's an improvement on a current design or groundbreaking new designs, CGI has the know-how and team to enable design excellence. Connect with us today to explore what CGI Motion can do for you.