Aerosol Jet Printing of Smart IoT Devices to be Highlighted
ALBUQUERQUE, N.M.--(BUSINESS WIRE)--Optomec, a leading global supplier of production grade additive manufacturing systems for 3D Printed Metals and 3D Printed Electronics announced today that the company will feature its production grade Aerosol Jet 3D Printers at the Sensors Expo at the McEnery Convention Center in San Jose, California this week. Aerosol Jet 3D Printers will be showcased in booth # 1118.

Aerosol Jet technology is currently used for printing 3D shaped electronics in mass production for antenna and sensor applications. There is a growing demand for antennas and sensors directly integrated into products including smartphones, wearables, structural components, and IoT related products. Creating integrated 3D antennas and sensors using a direct write approach enables higher fidelity monitoring of structures, faster product design and prototyping, while also broadening the choice of substrate materials. The Optomec exhibit will compare examples of 3D printing to traditional fabrication methods for broadband, Bluetooth, NFC antennas, plus strain and creep sensors. Examples of via filling and wrap-around printing using five axis of motion manufacturing solutions will be displayed.
The market for sensors is expanding at a phenomenal rate, with increasing demands on design engineers to innovate and integrate. To help engineers find the solutions they need in a timely manner, Sensors Expo 2016 brings together the entire design lifecycle from sensing all the way to securing, and across a wide range of verticals. The 2016 expo will bring together the world's leading engineers and developers to share design ideas, present today's sensing challenges, and find tomorrow's sensor solutions. For more information on the event, click here.
About Optomec
Optomec is a privately-held, rapidly growing supplier of Additive Manufacturing systems. Optomec patented Aerosol Jet Systems for 3D printed electronics and LENS Systems for 3D printed metals are used by industry to reduce product cost and improve performance. Together, these unique printing solutions work with the broadest spectrum of functional materials, ranging from electronic inks to structural metals and even biological matter. Optomec has more than 200 marquee customers around the world, targeting production applications in the electronics, energy, life sciences and aerospace industries. For more information about Optomec additive manufacturing solutions click here
Featured Product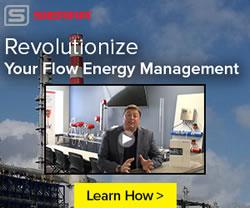 Sierra Instruments announces the launch of its new flow energy solution for managing and optimizing flow measurement for industrial facilities of all sizes. It features Sierra's QuadraTherm 640i/780i thermal flow meters, their InnovaMass 240i/241i vortex flow meters, and their new InnovaSonic 207i ultrasonic flow meter. Designed, built, and calibrated in the USA by Sierra, the Big-3TM share the same revolutionary Raptor firmware and many of the same software apps. They are a complete flow energy solution for flows like compressed air, natural gas, steam, and hot and chilled water. Together, they set a new standard in ease-of-purchase, performance, accuracy, reliability, and ease of use.