Security systems deliver high value and rapid ROI in retail, banking, and other corporate environments
Pryor, Oklahoma - Digi Security Systems, a leading provider of integrated electronic security systems, announces that its integrated electronic security solutions for large corporations feature centralized management across a geographically dispersed footprint. Digi offers completely integrated solutions for corporate environments, including IP video, video analytics and business intelligence, electronic access control and intrusion, and intercoms.

Digi employs experts with well over 100 years of collective industry experience, and spends thousands of hours per year on research. These experts spend a great deal of time with each customer and function like an internal group or department would. They are able to deliver an unmatched range of knowledge and experience that allows them to devise the best possible solution. As a result, Digi also makes the implementation of these custom-designed security solutions far more efficient and effective than could ever be achieved with internal corporate security teams alone, all while accounting for each customer's security priorities. These benefits are especially pronounced for corporate customers with a geographically dispersed footprint.
Digi understands the key pain points experienced by corporate security customers: the difficulty of standardizing multiple geographically dispersed locations into a unified security system, implementing video security with bandwidth limitations, and maintaining centralized security awareness. Digi products lead the industry in meeting these concerns, with expert implementation, standardization, sophisticated bandwidth management, and video analytics software.
Digi allows customers to analyze and test the full range of video products available on the market before settling on a single, ideal solution. Once installed, permissions and control of the security solutions can be closely managed and distributed within each organization, ensuring that everyone involved has the proper level of control. Sophisticated bandwidth management allows for the use of high quality video, even when customers have limited bandwidth availability.
Digi Security's systems contribute to improvements in security, organizational awareness, business practices, liability, customer service, inventory control, accountability, and training, leading to a rapid ROI. Digi offers free software updates, proof of concept installations, and trial access to the latest hardware and technology. Upgrade rollout is possible for individual locations, regions, or specific test groups, or company-wide, making it easy to pilot upgrades, or tailor them to the needs of individual locations.
Learn more about the Digi Security Systems offerings for corporate applications from the company's website.
###
About Digi Security Systems
Digi Security Systems, a division of RAE Corporation, is an industry leader in the design, building, installation and support of custom video surveillance, electronic access control, intrusion detection, burglar, and fire solutions for companies of all sizes. Located in Pryor, Oklahoma, Digi Security Systems forms a collaborative partnership with customers to design a security system that is both optimally effective for the customer's unique application and competitively priced. Dedicated to providing a top-quality customer experience, Digi offers unparalleled, efficient product support and service. For more information, visit http://www.digiss.com.
Featured Product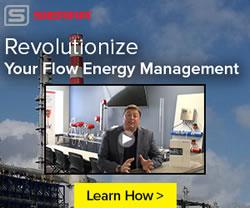 Sierra Instruments announces the launch of its new flow energy solution for managing and optimizing flow measurement for industrial facilities of all sizes. It features Sierra's QuadraTherm 640i/780i thermal flow meters, their InnovaMass 240i/241i vortex flow meters, and their new InnovaSonic 207i ultrasonic flow meter. Designed, built, and calibrated in the USA by Sierra, the Big-3TM share the same revolutionary Raptor firmware and many of the same software apps. They are a complete flow energy solution for flows like compressed air, natural gas, steam, and hot and chilled water. Together, they set a new standard in ease-of-purchase, performance, accuracy, reliability, and ease of use.