Event will feature CNC tips and automation technologies to enhance shop floor productivity and profitability.
Okuma America Corporation, a world-leader in CNC machine tool manufacturing, will host an "Easy Shop Floor Automation" event, Wednesday, June 22, 2016, 10am-2:30pm in Charlotte, N.C. at Partners in THINC, 12428 Sam Neely Road. The event will include tips and demonstrations of simple automation technologies that enable machine tool users to maximize productivity and profitability in their shops.

Automation doesnt need to be expensive or time intensive to implement. Automated gaging, bar feeders, parts catchers, robotic cells and flexible manufacturing systems can benefit shops of all sizes. Technology "must-dos" and automation justification will be highlighted.
"Easy Shop Floor Automation" Machines and Demonstrations
MULTUS B300W with Gosiger Automation Cell using Fanuc Robot and Kitagawa Quick-Change Workholding
GENOS L250 with LNS Barfeeder, Caron Engineering Balancing and Operational App
GENOS L300M with Gosiger Automation Cell using Kuka Robot, Renishaw Equator, Caron Auto-Comp, Infeed/Outfeed conveyor
ABB Robotic Drink Serving Cell
FANUC Robot/Schunk Workholding Changing Cell
Okuma 2SP-150H Turning Cell with Integrated Gantry System
Additional machines on display:
GENOS L300-MYW
MB-4000H
GENOS M560-V with 4th Axis Koma Rotary Table
Registration is free and lunch is included. For a detailed agenda and to register for "Easy Shop Floor Automation" visit okuma.com/events/2016automation.
About Okuma America Corporation
Okuma America Corporation is the U.S.-based sales and service affiliate of Okuma Corporation, a world leader in CNC (computer numeric control) machine tools, founded in 1898 in Nagoya, Japan. The company is the industrys only single-source provider, with the CNC machine, drive, motors, encoders, and spindle all manufactured by Okuma. The company also designs their own CNC controls to integrate seamlessly with each machine tools functionality. In 2014 Okuma launched the Okuma App Store, the industrys only centralized online marketplace for machine tool apps and related content. Along with its extensive distribution network (largest in the Americas), and Partners in THINC, Okuma is committed to helping users gain competitive advantage through the open possibilities of machine tools, today and into the future. For more information, visit http://www.okuma.com/americas or follow us on Facebook or Twitter @OkumaAmerica.
Featured Product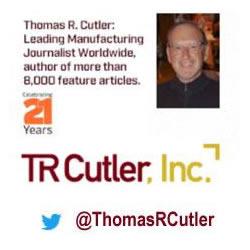 Cutler has authored more than 8000 articles for a wide range of manufacturing periodicals, industrial publications, and business journals including most of the leading monthly trade publications.