Cordsets Ideal for Space-Constrained, High-Power Applications
LISLE, Ill.--(BUSINESS WIRE)--Molex has introduced Brad® M40 Overmolded Cordsets, which are designed for high-power applications such as servo motors. The Molex circular-connector overmolded cordset portfolio now ranges from M5 to M40 sizes, and the M40 offering is extended to include field-attachable connectors and panel-mounted receptacles.

"Brad M40 Overmolded Cordsets feature a 71mm overmold length, one of the industrys shortest, allowing them to be used in space-constrained applications," said Hannah Lena Gehring, product manager, Molex. "To ensure high reliability and performance - even in the harshest industrial automation environments - weld-slag and oil-resistant (WSOR) jacketed, shielded cables are standard."
Brad M40 Overmolded Cordsets are available in standard lengths of 2, 3, 5, 7 and 10m, and in 6-pole (3+2+PE) and 8-pole (4+3+PE) connector configurations in the defacto industry standard. Power pins are each rated at up to 37A with signal pins rated at 16A. With a connection time of less than one minute, machine downtime is minimized and maintenance costs reduced. The cordsets come pre-assembled, which mitigates wiring errors.
When mated, Brad M40 Overmolded Cordsets have an IP-67 rating and are sealed to protect against dust ingress and temporary submersion in water to depths of 1m. The cordsets meet stringent requirements for reliability and performance in the harshest industrial environments, including welding, metalworking and machining applications.
For more information about Brad M40 Overmolded Cordsets from Molex, please visit: www.molex.com/link/bradm40.html
About Molex:
Molex brings together innovation and technology to deliver electronic solutions to customers worldwide. With a presence in more than 40 countries, Molex offers a full suite of solutions and services for many markets, including data communications, consumer electronics, industrial, automotive, commercial vehicle and medical. For more information, please visit www.molex.com.
Featured Product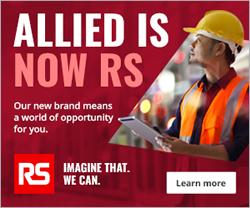 Based off the design pioneered by Anderson in 1953, the two pole SB® connectors set the standard for DC power distribution and battery connections. SB connectors feature a rugged one-piece plastic housing using stainless steel springs to retain the contacts and create the "contact force" that provides extremely low resistance enabling greater electrical efficiency. The SB connectors are also genderless (flip one 180 degrees and they will mate to each other) reducing the customer's bill of materials and providing greater economies of scale when purchasing. The SB series of connectors range in size from SB50 to the SB350. Each family size offers color-coded, mechanically keyed housings designed to prevent both visually and physically cross-mating devices with different voltages. All the connectors are UL rated to 600 volts, so the keys and colors are just identifiers to prevent accidents. Contacts are traditionally Silver plated to minimize electrical resistance while offering supreme durability and reliability.