CENIT at IMTS 2016, East Building – E-3331 / September 12-17, 2016
on the mechatronic simulation of resources and components, CENITs universal software platform enables systems integrators and manufacturers to emulate a real production environment. As a result, the software offers maximum performance through the digital mock-up of the true shop floor setting.

FASTSUITE Edition 2 assists with factory automation tasks, from planning to ongoing operation - which includes a wide range of production technologies.
All the technologies and functions interact seamlessly and complement each other perfectly in a single, innovative user interface with a standardized data model. This ensures an efficient workflow with full process control, while preventing data redundancy or the loss of information. The range of solutions extends from transferring engineering data to virtual startup of production systems.
FASTSUITE Edition 2s modular structure offers system-specific applications. This means that automation providers can easily expand and adjust functions as project requirements change, for example.
The softwares scope includes process-driven technology and control packages to provide offline programming even for sophisticated applications and technologies. With these basic, easy to use features, customers can get started quickly, and conveniently draw on proven solutions.
CAD data is transferred using standard interfaces like STEP or JT, as well as direct interfaces to NX, CATIA, SolidWorks, etc.
As a project and implementation partner, CENIT offers additional services above and beyond this software. Having more than 25 years of experience in industrial production, the CENIT team can bring together engineering and production, as well as help companies to bridge the gap between CAD systems and manufacturing.
Further information and contact details can be found at www.fastsuite.com
About CENIT
CENIT is your partner for successful digital transformation. With a broad solutions and services portfolio, CENIT enables clients to optimize their horizontal and vertical business processes. Our solutions are based on innovative technologies in: product lifecycle management, the digital factory, and enterprise information management. With interdisciplinary knowledge of the processes involved and their considerable expertise in the field, CENIT consultants provide customers with end-to-end advice to ensure that solutions are implemented with an understanding of the entire value chain. With a holistic approach and based on trusted partnerships, CENIT takes responsibility for solutions on behalf of our clients. From the initial consultation to the introduction of innovative IT solutions, right through to ensuring a cost-effective operation. The CENIT team adapts to each client, taking a practical approach, which enables measurable, operational optimizations. CENIT has been helping prestigious customers in key industries to gain competitive advantages for over 25 years! CENIT has over 700 employees worldwide who work with customers from: automotive, aerospace, industrial equipment, tool and mold manufacturing, financial services, and trade and consumer products industries. www.cenit.com
Featured Product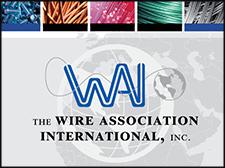 The Wire Association International (WAI), Inc., founded in 1930, is a worldwide technical society for wire and cable industry professionals. Based in Madison, Connecticut, USA, WAI collects and shares technical, manufacturing, and general business information to the ferrous, nonferrous, electrical, fiber optic, and fastener segments of the wire and cable industry. WAI hosts trade expositions, technical conferences, and educational programs.