What to expect at the IoT Tech Expo in Berlin, 13-14 June 2016:Live demo's, robotics, networking, innovative topics, discussion and more
BERLIN--(BUSINESS WIRE)--The IoT Tech Expo will be descending on Berlins Congress Center in just 2 weeks (13-14th June) for 2 days of networking, 5 conferences, an exclusive workshop and a buzzing exhibition including connected vehicles, 3D printers, VR, AI, drones and more! Over 3,000 have registered for the event which features 150 leading speakers from across a ranges of industries including manufacturing, healthcare, logistics, transport, government, energy and automotive.

The show will cover the entire IoT ecosystem with topics including; predictive maintenance, smart logistics, data analytics, connectivity, digitalisation, smart grids, sustainability, developing for the IoT, smart manufacturing, connected homes and car, monetisation and cyber security. The 5 dedicated conferences were a huge success in London and you can expect more real-life case studies, dynamic discussion and innovative thinking in Berlin.
Over the 2 days you will be able to see a range of industry leading speakers including:
Joerg Liebe, CIO, Lufthansa Systems AG
Dr. Luca Julia, Vice President of Innovation, Samsung
Jürgen Bilo, Vice President, Head of Strategy, Business Development and Marketing, Corporate Systems & Technology, Continental
Prof. Philipp Bouteiller, CEO of Tegel Projekt GmbH & Berlin Partner Representative
Henk Veldhuis, Global Director Smart Lighting / Smart Home, TÜV Rheinland Group
Einar Landre, Head of Drilling and Well Solutions, Statoil ASA
Manoëlla Wilbaut, Head of Global Commercial Developments & Sustainability, DHL
Peder Arvidsson, Managing Director, Sandvik Teeness AS
Robert Quirke, Vice President of Technology and Business Services, IDA Ireland
Lars Weber, Senior Programme Manager, E.ON
In additional to the stellar speaker line-up, the exhibition will feature the NXP EBV IoT Truck with over 130 live demos, Rutroniks Distribution Art Car, mini drones, VR demos, 3D printers, AI, Ford Mustang, Samsung Artik demos and more.
To see all of the above and more at the IoT Tech Expo Central Europe, please visit the website to register your pass. Advanced prices end Friday 3rd June so register now to save up to €195 on your delegate pass!
To learn more about the IoT Tech Expo World Series, visit the corresponding sites:
• IoT Tech Expo Central Europe: 13-14th June, Berlin Congress Center bcc, Germany
• IoT Tech Expo North America: 20-21st October, Santa Clara Convention Center, San Francisco, CA
• IoT Tech Expo Global: 23-24th January 2017, Olympia, London
For speaking, sponsorship and exhibitor enquiries please contact the team at enquiries@iottechexpo.com or call on +44 (0) 117 980 9023.
About IoT Tech Expo
The IoT Tech Expo World Series (www.iottechexpo.com) hosts top level content and discussion, introducing and exploring the latest innovations in the Internet of Things arena. It brings together key industries including Manufacturing, Transport, Health, Logistics, Government, Energy and Automotive.
Featured Product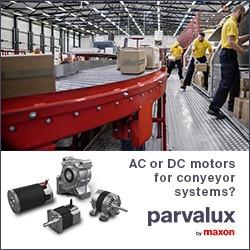 This GB56 right-angled, coupling driven gearbox from Parvalux packs a powerful punch in a small package. A width of 39mm and an output torque of 50 Nm in short-term operation. Ideal for applications where space is at a premium.