Floodgate Defender Mark III provides protection from cyber-attacks for legacy industrial, medical, military, and critical infrastructure equipment
Des Moines, Iowa - May 25, 2016 - Icon Labs (www.iconlabs.com), a leading provider of embedded networking and security technologies, announces availability of the low cost and easy to install Floodgate Defender firewall appliance. The compact Floodgate Defender Mark III (4 inches by 3.75 inches by 1.25 inches) provides a critical layer of security for legacy devices that comprise The Internet of Things including SCADA networks, military equipment, critical infrastructure controllers, and medical devices.

"A large portion of our critical infrastructure is controlled by legacy devices that were originally designed for use on closed networks and therefore contain little or no security. Even though they perform critical functions managing our power grid, factories, communication networks, and hospitals, most are easy targets for cyber-criminals and cyber-terrorism," said Alan Grau, President of Icon Labs. "Many of these devices cannot be updated to include security, and replacing them with new secure versions will take years. The Floodgate Defender provides a simple and cost-effective solution to stop these attacks."
The Floodgate Defender device is plugged in between the Internet or WAN and the device. It includes two Ethernet ports for easy installation. It can be easily configured with communication policies customized for the device it is protecting by using a web-based management interface. The Floodgate Defender enforces the policies, blocking attacks before a connection can be established with the target device, without requiring any change to the network or the target device. The Floodgate Security Manager, or other security management systems, can access the event log to audit and manage policies.
The Floodgate Defenders patented technology protects legacy devices from a broad range of cyber-attacks.
Features include:
• Filtering by IP addresses, ports, and protocols
• Stateful packet inspection
• Deep packet inspection for ModbusTCP and other industrial protocols
• Detection and reporting of suspicious traffic
• Integration with security management systems including:
o Floodgate Security Manager
o McAfee ePO
o McAfee SIEM
• Ethernet pass-through upon power failure to facilitate continuous operation in critical environments
The Floodgate Defender includes an innovative security coprocessor from Maxim Integrated Products, Inc. that provides secure key storage and a cryptographic accelerator. This improves the resistance of encryption functions, enables secure boot, and ensures the security of both the Floodgate Defender device itself and the devices it is protecting.
"We are pleased to partner with Icon Labs to incorporate our secure microcontroller into this new compact firewall that protects installed networked devices with insufficient security. This exclusive combination of our technology with Icon Labs software is a significant advancement in creating the "Internet of Secure Things," said Christophe Tremlet, Senior Business Manager, Maxim Integrated.
"Embedded devices have failed to maintain pace with the increasing number of attacks targeting them, making them easy targets for industrial espionage, hacktivists or even terrorist groups. These devices need the same level of security used to protect enterprise networks," said Jared Weiner - Analyst, M2M Embedded Software & Tools, VDC Research. "Floodgate Defender provides these devices with a critical, missing layer of security."
Floodgate Defender is available now with pricing starting at $599. Discounts are available for volume orders.
About Icon Laboratories, Inc.
Icon Labs, a 2014 Gartner "Cool Vendor" and 2015 Gartner "Select Vendor", is a leading provider of security solutions for IoT and embedded devices, including the award-winning Floodgate Defender and Floodgate Security Framework. Founded in 1992, Icon Labs is headquartered in West Des Moines, Iowa. For more information, visit www.iconlabs.com.
Featured Product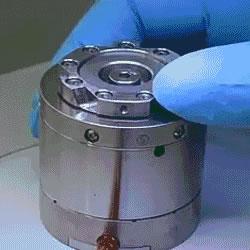 A traditional gantry system employs X-Y or X-Y-Z range of motion. Mounted on a base plate, usually granite, 2 parallel rails constitute the synchronized Y axis motion while the cross axis (bridge axis) provides the X motion. A vertical axis can be added on the bridge for the Z motion. A Split Bridge system can be less complex than a traditional gantry system because synchronization of the two parallel linear motors is not required. Both systems are used in industrial production, testing, and additive manufacturing.