EnvisionTEC to introduce the first industrial scale 3D printer for the production of woven fiber composite parts
DEARBORN, Mich. — (BUSINESS WIRE) — May 17, 2016 — EnvisionTEC, a leading global manufacturer of professional grade 3D printing solutions, announced today the launch of the SLCOM™ 1 industrial composite 3D printer. EnvisionTEC, who has a history of driving innovation in 3D printing developed and commercialized the first DLP 3D printer to market in 2002. Following years of consistent innovation, EnvisionTEC has yet another first to market 3D printer in the SLCOM 1, employing a new patent pending process known as Selective Lamination Composite Object Manufacturing.

"We are proud to introduce the first disruptive industrial-scale, composites 3D printer. This represents a paradigm shift for manufacturing, especially where demanding mechanical and environmental properties can only be delivered from woven composites," said Al Siblani, CEO of EnvisionTEC.
SLCOM technology allows for the building of composite parts using layer-by-layer laminated thermoplastic composite fabric sheets from a roll. As the first 3D printer employing this technology, the SLCOM 1 will be capable of building objects up to 24" x 30" with a 24" height.
The SLCOM 1 can process a wide range of custom made thermoplastic reinforced unidirectional or multidirectional woven fibers tailored to the customer performance needs. Some of the composite matrix materials the SLCOM 1 can process include woven glass fiber, woven carbon fiber, or other woven aramid fibers reinforced with a choice of Nylon 6, Nylon 11, Nylon 12, Peek, Pekk, Polycarbonate, and many others. This allows for customization in delivering high quality 3D printed parts suitable for use in aerospace, automotive, consumer products, sporting goods, and potential applications in the medical space. The composites can be tailored for exceptional toughness, environmental resistance, vibration dampening, low flammability characteristics, high wear resistance and high strength to weight ratio.
"It is exciting to consider the extensive range of new applications that the SLCOM 3D printing technology will open up. EnvisionTEC has long been a pioneer in 3D printing innovations and we believe that this entry into the composites space will propel industrial 3D printing to a host of new applications," said Siblani.
For more information and be among the first to see the SLCOM 1, visit booth #711 at the RAPID 2016 Show in Orlando, Florida.
About EnvisionTEC
EnvisionTEC is a leading global provider of professional grade 3D printing solutions for the rapid manufacture of customized products utilizing its proprietary consumables across a variety of markets. Since its first patent submission in 1999, EnvisionTEC has developed and released 3D print solutions consisting of 3D printers, print materials and replacement parts, as well as training and other services. Their proprietary, multi-platform technology delivers high precision, speed, surface quality and functionality and uses a wide range of materials at high production speeds. EnvisionTEC works with strong customer and partner bases in diverse sectors, including jewelry, hearing aids, dental, consumer, auto manufacturing and design companies. For more information, please visit http://EnvisionTEC.com.
Featured Product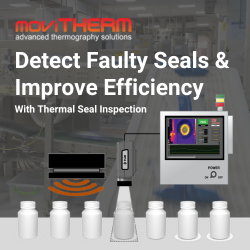 MoviTHERM's Thermal Seal Inspection (TSI) solution provides precise and reliable detection of defects in a variety of packaging types, including pouches, bags, blister packs, bottle caps, and more. By detecting defects in your packages, the TSI solution helps increase efficiency in your production line and ensures top-quality packaging is delivered to your customers every time. With state-of-the-art technology and an experienced team, MoviTHERM is dedicated to delivering accurate inspection solutions and peace of mind to its clients. Contact MoviTHERM today to learn more about their thermal seal inspection solution.