Affordable Hybrid CNC machines for metalworking and mass production systems for printed electronics will be demonstrated
ALBUQUERQUE, N.M.--(BUSINESS WIRE)--Optomec announced today that it will showcase production grade additive manufacturing systems at the RAPID Conference in Orlando, Florida. Highlighting its exhibition will be live demonstrations of an affordable hybrid CNC system that combines Optomec LENS technology for 3D printed metals with subtractive milling technology in a single machine tool. In addition, Optomec will showcase Aerosol Jet technology for 3D printed electronics including a video showing its use in mass production at the LITE-ON Mobile Mechanical SBG (LITE-ON) factory in Guangzhou, China. The RAPID Conference will be held from May 16 - 19th at the Orange County Convention Center in Orlando, Florida. Optomec will be in booth #649.

Optomec metal additive manufacturing solutions are based on its production proven LENS technology for 3D printed metals. Under a project sponsored by America Makes, Optomec packaged LENS technology into a modular print engine which can be integrated with other metal working platforms such as CNC mills, lathes, robots, custom gantries, or table system. This open system approach enables customers to cost-effectively deploy metal additive manufacturing technology to meet application specific requirements.
Optomec partners, Industrias Viwa, S.A. a CNC machine tool builder, and Centroid, a maker of CNC controllers, integrated LENS 3D printing technology into a 4 axis vertical mill. The hybrid CNC system, which was integrated in a matter of a few days, represents the best in additive and subtractive technology in a single machine tool at an affordable price. Live demonstrations of the hybrid CNC system will be presented on the hour every day during the conference in both English and Spanish.
Global contract manufacturer, LITE-ON, has pioneered a 3D Direct Printing (3DP) solution that enables 3D antenna, sensors and other functional electronics to be printed onto virtually any injection molded part eliminating the need for secondary plating steps - maximizing design flexibility, ensuring optimal device placement and performance, and allowing slimmer product designs. The implementation at LITE-ON leverages a series of Aerosol Jet print modules spread across multiple 5-axis motion platforms, configured to handle common smartphone and tablet form factors. Each machine is able to print a wide range of common electronics materials, at a rate of millions of units per year, enabling next generation applications in consumer electronics, automotive, aerospace, and smart IoT devices.
Optomec solutions for printed electronics are based on its production proven Aerosol Jet technology for printing conformal electronic circuitry and components onto 3D structures. The Aerosol Jet process utilizes an innovative aerodynamic focusing technique to collimate a dense mist of material-laden micro droplets into a tightly controlled beam to print features as small as 10 microns or as large as several millimeters in a single pass. A wide assortment of materials can be printed with the Aerosol Jet system including conductive nano-particle inks, polymers and epoxies, along with dielectrics, ceramics, and bio-active materials.
In addition, Mr. Mike O'Reilly, Director of Aerosol Jet Product Management, will give a presentation titled "Fully Printed Conformal Antennas and Sensors on 3D Plastic, Ceramic, and Metallic Substrates" on Thursday May 19th at 11:15 AM. In his presentation Mr. O'Reilly will discuss the growing demand for antennas and sensors directly integrated into products including smartphones, wearables, structural components, and IoT related products.
Also, Mr. Ken Vartanian, Vice President of Marketing at Optomec, will give a presentation titled "A Hybrid Approach to Accelerate Adoption of Metal 3D Printing" on Thursday, May 19th at 10:45 AM. In his presentation Mr. Vartanian will discuss how the high cost to acquire metal additive manufacturing systems in one of the main barriers to industrial adoption. He will then present progress made by an Optomec led team that has reduced the cost to acquire metal 3D printing systems by more than 50%.
Entering its 26th year the SME RAPID conference is known worldwide as the unrivaled authority on 3D knowledge and expertise. The world's foremost additive manufacturing experts speak on groundbreaking processes, applications, materials, and research in additive manufacturing.
Optomec is a privately-held, rapidly growing supplier of Additive Manufacturing systems. Optomec's patented Aerosol Jet Systems for printed electronics and LENS 3D Printers for metal components are used by industry to reduce product cost and improve performance. Together, these unique printing solutions work with the broadest spectrum of functional materials, ranging from electronic inks to structural metals and even biological matter. Optomec has more than 200 marquee customers around the world, targeting production applications in the Electronics, Energy, Life Sciences and Aerospace industries.
LENS (Laser Engineered Net Shaping) is a registered trademark of Sandia National Laboratories. Aerosol Jet and Optomec are registered trademarks of Optomec Inc.
Featured Product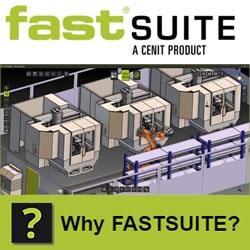 With two product lines, FASTSUITE for V5, which is seamlessly integrated with CATIA/DELMIA V5, and FASTSUITE Edition 2, a standalone platform, the areas of OLP (offline programming), manufacturing simulation and virtual commissioning are the core of our business activities. Our applications and solutions are not only focused on real customer needs, but they are also designed to improve efficiency and quality of our customers' manufacturing processes. No matter if the process is just about offline programming of a single robot at a small job-shop company or about the validation of a complete production line at an Automotive or Aerospace OEM. We strive to ensure a constant quality of our services and to provide the best possible support to our worldwide customers. Therefore we have established three digital manufacturing hubs around the world. All our teams have a proven expertise on manufacturing process integration and profound IT implementation skills.