EastPack & HBA Global will feature more than 200 packaging industry suppliers, June 14-16 in New York City On Display: Bella the Bride, wedding dress made completely of recycled materials, shows importance of sustainable packaging
SANTA MONICA, Calif., May 12, 2016 /PRNewswire/ -- This June, two premier packaging events, EastPack and HBA Global, will join the largest advanced manufacturing event on the East Coast as two of the seven co-located expos - which are expected to draw more than 11,000 industry professionals. EastPack will uncover the latest materials and design innovations in packaging, while HBA Global hones in on packaging aesthetics and functionality for the health and beauty industry. Together, the two expos will host more than 200 top suppliers and 2,000 professionals from the likes of Pfizer, Hasbro, Sysco, and Pepsi, as well as Avon, CHANEL, and Estee Lauder.

EastPack, HBA Global, and the full range of co-located events will take place June 14-16 at the Jacob K. Javits Convention Center in New York City. To request a Media Pass to attend all seven co-located events, visit: https://newyork.am.ubm.com/2016/registrations/media
See Bella the Bride - A Wedding Gown Made of Recycled Packaging
A highlight of the show will be Bella the Bride, the latest addition to the Recycle Runway Collection, a traveling exhibit showcasing sustainable fashion designs made from trash. Bella's wedding dress will be front and center in the Crystal Palace of the Javits Convention Center, portraying the importance of recycling discarded waste, specifically healthcare packaging, which could otherwise be sent to landfills. Bella's pure white gown is pieced and sewn out of discarded Tyvek®, a clean, flexible, white plastic, sterilizable material, widely used in medical device packaging.
Packaging Differentiation - Top Suppliers & In-Depth Conference Sessions
On the Expo floor, EastPack and HBA Global will host the packaging industry's top designers, engineers, suppliers, and manufacturers - covering flexible packaging, smart technology, RFID, automation, labels and labeling, and more.
With a Conference pass, packaging professionals will have access to powerful panel discussions, hands-on workshops, and deep-dive sessions to help them solve challenges and stimulate business by maximizing the aesthetic and functional appeal of packaging solutions. Full-day conference tracks include:
Packaging for Food & Beverage: Tuesday, June 14, 10:00am - 4:30pm
Topics include customized packaging, direct-to-package printing, and designing attractive branding for e-commerce
Speakers from Heineken USA, Coca-Cola, Owens-Illinois
Packaging Design for Health & Beauty: Wednesday, June 15, 10:00am - 4:30pm
Topics include dispensing methods for convenience and travel-size products, design changes for new retail environments, and creating a brand story
Speakers from The Clorox Company, Stila, Avon
Advances in Pharmaceutical and Medical Packaging: Thursday, June 16, 10:00am - 4:30pm
Topics include strategies for ensuring patient safety, and product efficacy through successful package delivery
Speakers from U.S. Pharmacopeial Convention (USP), Pfizer, Center for Devices & Radiological Health, FDA, Center for Disease Control
To see the full conference schedule for EastPack & HBA Global, please visit: http://scheduleep.packagingdigest.com/theme/packaging.
To learn more about the seven co-located advanced manufacturing Expos happening June 14-16 at the Jacob K. Javits Convention Center in New York, NY, please visit:
EastPack
HBA Global
Medical Design & Manufacturing (MD&M) East
ATX (Automation Technology) East
Atlantic Design & Manufacturing
PLASTEC East
Quality Expo East
About Advanced Manufacturing Expos & Conferences
UBM's Advanced Manufacturing portfolio is the leading B-to-B event producer, publisher, and digital media business for the world's $3 trillion advanced, technology-based manufacturing industry. Our print and electronic products deliver trusted information to the advanced manufacturing market and leverage our proprietary 1.3 million name database to connect suppliers with buyers and purchase influencers. We produce more than 50 events and conferences in a dozen countries, connecting manufacturing professionals from around the globe. The Advanced Manufacturing portfolio is organized by UBM Americas, a part of UBM plc (UBM.L), an Events First marketing and communication services business. For more information, visit ubmamericas.com.
Featured Product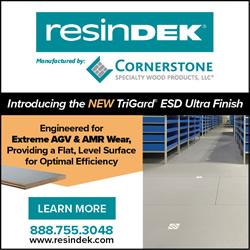 ResinDek flooring panels are designed for elevated platforms such as mezzanines, pick modules, and work platforms. They have the proven structural integrity to support dynamic and static rolling limits from 2,000 to 8,000 lbs. ResinDek flooring panels are available in a multitude of options that are customized for load capacities, required finish type, volume and type of traffic including heavy rolling pallet jack loads and robotic traffic with AGVs and AMRs.