MLC CAD Systems unveiled a unique and unprecedented display exhibit to kick off OTC 2016.
HOUSTON--(BUSINESS WIRE)--OTC 2016, the Offshore Technology Conference, is in Houston, Texas, from May 2-5. MLC CAD Systems is showcasing a downhole drill bit that was designed in SOLIDWORKS, programmed (G-code) with Mastercam, machined on a 5-axis Haas CNC Machine Tool, and also direct metal printed on a 3D Systems DMP 3D printer.

"MLC CAD Systems is in the unique position to offer our customers sales, support, and training for the latest innovations in design-to-manufacture technology solutions all provided from one solution provider. Our product portfolio includes SOLIDWORKS 3D CAD for design, Mastercam (subtractive manufacturing), and 3D Printers from 3D Systems (additive manufacturing). What will be so unique about our booth at OTC is we will be showcasing all of these technologies in one place. By doing this it will provide attendees an uncommon perspective into the latest manufacturing technologies and the synergies between them that are enabling engineers to design better products more efficiently," stated Joel Hill, Director of Business Development for MLC CAD Systems.
At OTC 2016, MLC CAD Systems is exhibiting at booth #5605 (NRG Center Main Hall). During the show, attendees can see hands-on displays and live manufacturing both subtractive and additive utilizing:
3D Systems: 3D Printing
SOLIDWORKS: CAD Design Suite
Haas Factory Outlet (Champions Machine Tool Sales): 5 axis CNC Machining Center
Mastercam: CAM Software
About MLC CAD Systems
Founded in 1982, MLC CAD Systems is a value-added-reseller of industry-leading solutions for conceptualization, design, analysis, validation, manufacturing, data publishing, data management and collaboration. The companys experienced team of industry professionals offer real-world, hands-on expertise in implementing a wide variety of solutions, including the full suite of Mastercam software products, SOLIDWORKS software products, and 3D Systems' 3D printing technologies. In addition to software and hardware, MLC CAD Systems provides Mastercam training, SOLIDWORKS training, Mastercam support and maintenance, SOLIDWORKS support and subscription services, 3D Systems 3D printer support and repair, and installation/implementation/customization services for Mastercam, SOLIDWORKS and 3D Systems 3D printers.
With offices in Austin, Dallas/Fort Worth, Houston and San Antonio, TX; Oklahoma City, Stillwater and Tulsa, OK; New Orleans, LA; Birmingham and Huntsville, AL; Jackson, MS; Atlanta, GA; Orlando, Ft. Lauderdale, Miami and Tampa, FL; Phoenix, AZ; Chattanooga and Nashville, TN; Kansas City, KS; Springfield, MO; and Saltillo, MX; MLC CAD Systems is one of the largest and most well-respected companies in CAD, CAM, CAE, PDM, PLM, and 3D-printing industries.
For more information about MLC CAD Systems and to learn more about myMLCservices.com support offerings, please visit our website www.mlc-cad.com or call 800-364-1652.
Featured Product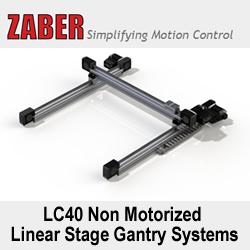 A Zaber gantry kit comes with everything you need to build a customized XY gantry system or XYZ gantry system. These gantry systems feature coordinated multi-axis motion, plug-and-play operation, easy integration with end-effector options, and built-in IO and E-Stop capabilities. An intuitive ASCII interface allows the user to easily communicate with the gantry systems using our free software, either Zaber Motion Library with APIs for several popular languages or Zaber Console. Third party terminal programs that can communicate over a serial port can also be used.