METTLER TOLEDO CI-Vision is pleased to announce the launch of the V2622 Flex-Lite, a compact smart camera based vision solution. The V2622 serves as an excellent introduction for manufacturers seeking to integrate vision technology into their quality control process.
With the V2622 Flex-Lite, manufacturers can explore the capabilities of a vision inspection program without the need for a heavy up-front investment. By using smart cameras rather than a central control PC, the V2622 is a compact vision system suited for either wide-scale implementation or as an introduction to vision technology. The V2622 offers manufacturers the ability to only take the software and cameras they need, and allows for in-house setup of the system - or complete project management and installation assistance, if preferred. As government regulations regarding the labelling of products continue to come into force across multiple industries, vision inspection is becoming an ever more integral part of a comprehensive quality control program by ensuring only packages and labels that meet the manufacturers exacting specifications make it out of their facility to retailer shelves.

The V2622 utilizes METTLER TOLEDO smart camera software and hardware to deliver a vision inspection solution that does not compromise the high performance standards set internally. With a comprehensive track record in Track & Trace applications, these smart cameras have delivered quality results to the pharmaceutical industry and are now being brought to other industries for similar applications in package quality, code reading, and graphical identification. Some camera models include liquid lens technology, allowing for adjustments in camera focus to be made with no moving parts, making product changeovers more reliable and efficient.
The system comes in multiple configurations ranging from a single smart camera and patch panel all the way to a two camera system with a dedicated control box and touch screen PC running Inspection Manager, a software allowing control of multiple smart cameras from a centralized interface. Manufacturers can decide which configuration works best for them, or have the vision experts at METTLER TOLEDO tailor a solution for them. As with all METTLER TOLEDO CI-Vision systems, the V2622 comes with the backing of our global service and support network, making large-scale or even global rollouts easy and offering regular maintenance programs as well as operator training courses.
For more information on the V2622, visit: http://glo.mt.com/glo/en/home/products/Product-Inspection_1/CI_Vision/vision-label-inspection/V2622.html
About METTLER TOLEDO CI-Vision
METTLER TOLEDO CI-Vision is a wholly owned subsidiary of Mettler-Toledo Inc., a global supplier of precision instruments in laboratory, industrial and food retailing applications with sales and service locations in 37 countries. With over 30 years of industry experience, METTLER TOLEDO CI-Vision provides state-of-the-art vision inspection solutions as part of Mettler-Toledo's product inspection offerings. Our advanced software maximizes inspection capabilities for a variety of applications in the food, beverage, pharmaceutical, medical device and personal care industries. Companies use our solutions to continuously improve the quality of their products and improve the efficiency of their manufacturing and packaging inspection processes.
Featured Product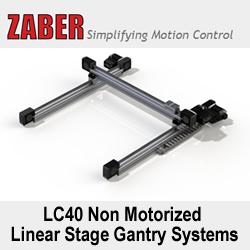 Zaber's X-LRQ-DE Series of linear stages have high stiffness, load, and lifetime capabilities in a compact size. The integrated linear encoder combined with stage calibration provides high accuracy positioning over the full travel of the device. At 36 mm high, these stages are excellent for applications where a low profile is required. The X-LRQ-DE's innovative design allows speeds up to 205 mm/s and loads up to 100 kg. Like all Zaber products, the X-LRQ-DE Series is designed for easy set-up and operation.