LASYS to hold central forum "Lasers in Action" on new developments, technologies and applications / More than 30 presentations over three days
At LASYS, the international trade fair for laser material processing, visitors will have access to the latest laser technologies and applications. The "Lasers in Action" forum, to be held on all three days of the trade fair from 31 May to 2 June, will have a wide range of presentations discussing the latest laser technology and market developments. Laser users and decision-makers from industry will gain insights into how lasers can increase quality, efficiency and productivity in manufacturing.

"We offer more than 30 presentations, as well as an interactive panel discussion, which are free to attend and conveniently located within the exhibition hall. LASYS visitors have the perfect opportunity to find out more about the latest laser technologies and applications," says Warren Clark, Managing Director of Europa Science, which publishes Laser Systems Europe and is organising the forum with support from the Laser Institute of America (LIA).
A special feature in the seminar programme is the podium discussion on Wednesday 1 June. From 12.30 to 13.30 high-ranking industry representatives will discuss their views on current and future trends in laser materials processing. Panellists include Dave MacLellan, Executive Secretary of the Association of Industrial Laser Users (AILU), and Markus Rütering, Sales and Marketing Manager for Asia at Laserline, with more to be announced. They will speak with moderator Warren Clark about progress made in the last two years in the field of laser materials processing, the most exciting technologies currently on the market, and what challenges the laser production system industry faces. "Visitors have the opportunity to take part in the discussion and ask the panel their questions," comments Warren Clark.
On Thursday 2 June from 14.00 to 15.00 the German Engineering Federation (VDMA) will address the topic of future challenges for the photonics industry in Germany and Europe. "The research and innovation policy of Asian countries will focus more on the present domains of German and European photonics providers in the coming years," explains Gerhard Hein, President of the Laser and Laser Systems for Material Processing Association, as well as the Photonics Forum at the VDMA. He continues: "We mainly see these challenges as a competition roadmap and as an incentive for considerations on how positions can be secured in key Asian markets or new business segments conquered. What is important here is the question of whether and how German and European companies can open up for cooperative ventures with Asian partners." Together with guest speakers, initial thoughts on this area will be discussed. Daniela Bartscher-Herold, partner of the management consulting firm Euro Asia Consulting (EAC), Jürgen Valentin, Chief Technology Officer of NanoFocus, and Dr. Thomas Rettich, Head of Research Coordination at TRUMPF, will delivery keynote addresses during the session.
Other experts from leading companies and organisations will give presentations on topics ranging from laser microprocessing to scanning technologies, and laser welding through to laser applications in mould and tool construction.
The forum takes place daily from 9.15 to 16.30 at Stand 4A51. The complete programme can be found here: www.lasys-fair.com/accompanying-programme.
About LASYS
As the only international trade fair, LASYS clearly focuses on system solutions in laser material processing. Since the start of the trade fair in 2008, it has successfully established itself as a user platform for the latest laser systems, machines and processes. LASYS addresses all industries and materials, in particular decision-makers from the international industry. The focus is on all tried-and-tested, but also innovative, manufacturing processes, applications and potential uses of laser in industrial manufacturing.
Other trade fairs are also taking place parallel to LASYS 2016 at the Stuttgart trade fair grounds, which create synergy effects for the visitors: the automotive shows with Automotive Testing Expo Europe, Engine Expo, Automotive Interiors Expo, Global Automotive Components and Suppliers Expo, and the Autonomous Vehicle Test & Development Symposium, as well as O&S, the international trade fair for surface treatments and coatings, and parts2clean, the leading international trade fair for industrial parts and surface cleaning.
The VDMA is a professional and conceptual supporter of LASYS.
LASYS takes place at the Stuttgart trade fair centre from 31 May to 2 June 2016.
Featured Product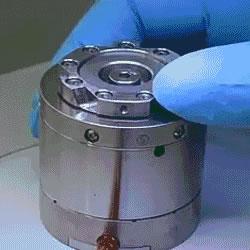 Alignment of opto-mechanical components, tracking, laser or camera performance optimization - when the performance or quality can be measured as a quantity, PI can help you achieve more, faster. PI engineers have helped customers in industries such as optics, bio-technology, imaging, life sciences, photonics, aerospace, and semiconductor production. If you work on a project that can benefit from higher precision and/or higher speed fine tuning, you'll be happy to have talked to our engineers.