This 2-day Summit will focus on the role of RPA in improving the Shared Services delivery standardization and efficiency.
New York, New York (April 25, 2016) - CITI, American Express, Amgen, Bristol-Myers Squibb and more will come together at the 2nd Robotic Process Automation Summit in Shared Services this July 25-26 in Chicago to discuss using RPA as a tool to ensure continued process improvement & cost savings.

This 2-day Summit will focus on the role of RPA in improving the Shared Services delivery standardization and efficiency. Attendees of the Summit will be able to:
 Learn about RPAs current and ever-evolving capabilities - and what it may offer in the years to come
 Better understand which SSC processes can utilize RPA and how it is different than other automation management tools on the market today
 Discover how RPA can provide a supplementary layer of data analytics to drive increased business intelligence into your SSC
 Determine how and if RPA can help your shared services organization better plan, manage and analyze its business to ensure it meets its objectives in 2017 and beyond
"Redwood Software is proud to be a co-sponsor of the second annual Robotic Process Automation Summit. RPA is no longer just a buzz word in the enterprise, it is now part of a do or die strategy where organizations are realising that should they choose to ignore it, it will most certainly be at their peril," said Simon Shah, Vice President Worldwide Marketing at Redwood Software Inc.
Redwood Software, Inc. along with Alsbridge Inc., Blue Prism, Information Services Group, Kofax Kapow, and WorkFusion are sponsoring the event and will showcase their RPA expertise and technologies.
"We are excited for the return of this event as it is shaping to be a great program that will provide Shared Services experts with necessary tools," said Heather King, Head of the Shared Services Portfolio at IQPC. "We have a lot to look forward to in 2016 and attendees will be more than impressed with the program."
IQPC, the organizer of the event, is collaborating with SSON. Other media partners include Outsource Magazine, RoboticsJobs.com, BPO Executives LinkedIn Group, Finance Transformation Professionals Global Network LinkedIn Group, Automated Invoice Process LinkedIn Group, and Banking, Financial Services & Insurance LinkedIn Group
About the Event:
The 2nd Robotic Process Automation Summit in Shared Services Summit this July 25-26 in Chicago is an industry premier event for Shared Services experts to discuss how the implementation of RPA can
improve process and save costs.
Featured Product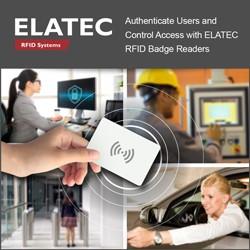 With a tap of the badge, RFID readers from ELATEC provide secure, reliable and easy-to-use user authentication, access control and usage tracking of hardware and software in industrial automation processes. Reader durability in harsh plant floor environments is another essential feature. Choose the right authentication and access control solution and extend RFID card-based capability for the access control of PLC, robot and HMI automation controller software and devices requiring special operator training.