These new Festo solutions save time, lower cost, and reduce problems for engineering teams. Festo assigns a part number to every unique pneumatic control panel so that panels become standard easily reproduced products. (Festo Interphex Booth #3373)
For the first time at Interphex, Festo showcases for attendees in the life sciences a comprehensive end-to-end solution for pneumatic systems that significantly streamlines the design, layout, fabrication, factory acceptance testing, and commissioning of pneumatic control panels. Control panels are given unique part numbers which means that Festo can quickly and efficiently supply components and entire units on a global basis to any of the customer's plants. (Festo Interphex Booth #3373)

Interphex visitors to the Festo booth can also see AquaJellies - bionic, autonomous jellyfish - in their new 500 gallon/1,900 liter tank.
A new 20-foot-long process automation display in the Festo booth provides a comprehensive visual guide to the life science solutions offered by the company - control platform, valve manifolds, pilot valves, ball, butterfly, and diaphragm solenoid valves, air quality, and more.
"The real change to our approach is that we are now offering all of these products within a unified concept-through-commissioning and global support framework that lowers risk, cost, and time, and speeds up factory acceptance testing and commissioning," said Craig Correia, Head of Process Automation, Festo. "When Festo sits down with a life sciences customer and describes this end-to-end solution, there is real excitement in the room. This is especially true when we show them the thorough documentation packet that supports fast, trouble free commissioning. I urge Interphex attendees to stop by the Festo Booth to see for themselves."
At the heart of a Festo life sciences control panel is the CPX modular controller with the MPA valve terminal. This in-the-cabinet controller provides serial linkage and consistent communication down to the valve level for comprehensive diagnostics. The compact MPA terminal has up to 64 valve positions/128 solenoid coils. This saves considerable space in the control cabinet and provides reliable feedback-free switching of pilot valves/process actuators. The CPX controller seamlessly integrates with plant DCS or PLC supervisory control systems. Festo pneumatic panels typically control all forms of solenoid valves, provide diagnostic and control communication with field I/O, and process air to the quality required by the life sciences.
For more information on Festo Biotechnology/Pharmaceutical solutions and for a new brochure on the Festo control cabinet initiative, call 800-993-3786 and/or visit http://www.festo.us.
###
About Festo
Festo is a leading manufacturer of pneumatic and electromechanical systems, components, and controls for process and industrial automation. For more than 40 years, Festo Corporation has continuously elevated the state of manufacturing with innovations and optimized motion control solutions that deliver higher performing, more profitable automated manufacturing and processing equipment.
Featured Product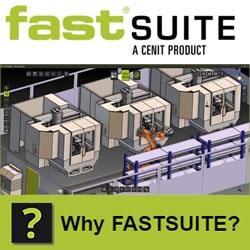 With two product lines, FASTSUITE for V5, which is seamlessly integrated with CATIA/DELMIA V5, and FASTSUITE Edition 2, a standalone platform, the areas of OLP (offline programming), manufacturing simulation and virtual commissioning are the core of our business activities. Our applications and solutions are not only focused on real customer needs, but they are also designed to improve efficiency and quality of our customers' manufacturing processes. No matter if the process is just about offline programming of a single robot at a small job-shop company or about the validation of a complete production line at an Automotive or Aerospace OEM. We strive to ensure a constant quality of our services and to provide the best possible support to our worldwide customers. Therefore we have established three digital manufacturing hubs around the world. All our teams have a proven expertise on manufacturing process integration and profound IT implementation skills.