Delivers up to 50% savings on low-volume plastic parts and prototypes to companies in the United States
Plural Additive Manufacturing announces the opening of its new facility at 6455 Lakeview Blvd, Suite B., Lake Oswego, Oregon. The office and production areas will support the US market with equipment and services for a new generation of industrial 3D printing and Additive Manufacturing systems.

Plural's solutions are designed for industrial, low volume production of plastic parts and high quality prototyping for form, fit and function.
Compared to traditional manufacturing processes used for low- to mid-volume parts manufacturing, Plural's technologies achieve up to 50% cost per part savings. Plural achieves their savings and advanced performance through a number of factors such as:
Non-proprietary, open source, engineering grade thermoplastics
Three print nozzles for multi-material and soluble support material printing
A liquid-cooled print head enabling a wider range of materials including hi-temp and clear/FDA approved variants
HEPA air filtration, providing a healthy, particle, and odor free environment
Low acquisition, operation, and maintenance costs
Underscoring Plural's mission, says Tom McKasson, co-founder of Plural: "The terms 3D printing and Additive Manufacturing are often used interchangeably. The fact is, AM includes 3D printing and much more as part of a lean process in order to cost-effectively deliver low- to mid-volumes of plastic parts for end use applications."
ABOUT PLURAL
Founded by industry veterans, Plural is an innovative startup company providing industrial solutions for additive manufacturing and rapid prototyping.They offer a wide range of thermoplastic materials using advanced 3D print technology and processes.
Plural's solutions are available through the company and its technology partners.
Featured Product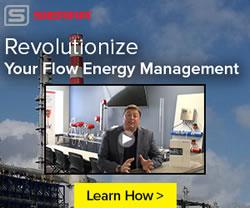 Sierra Instruments announces the launch of its new flow energy solution for managing and optimizing flow measurement for industrial facilities of all sizes. It features Sierra's QuadraTherm 640i/780i thermal flow meters, their InnovaMass 240i/241i vortex flow meters, and their new InnovaSonic 207i ultrasonic flow meter. Designed, built, and calibrated in the USA by Sierra, the Big-3TM share the same revolutionary Raptor firmware and many of the same software apps. They are a complete flow energy solution for flows like compressed air, natural gas, steam, and hot and chilled water. Together, they set a new standard in ease-of-purchase, performance, accuracy, reliability, and ease of use.