New APIs Enable Greater Possibilities for Designers by Allowing Developers to Create Apps and Services; One of the First Apps Comes from 3DHubs, Providing 3D Print Fulfillment for Everyone
BROOKLYN, N.Y.--(BUSINESS WIRE)--MakerBot, a global leader in the desktop 3D printing industry, today announced a new Thingiverse Developer Program that enables developers to add new functionalities and services to the largest 3D printing community in the world. MakerBot believes that the future of 3D printing will be defined by new apps and use cases that drive broader accessibility and adoption of the technology. The new Developer Program invites the community to shape this next chapter by enabling even greater possibilities in the Thingiverse community. The new additions include Thing App APIs that allow developers to create apps and services that appear directly on a Thing page, in app purchases and tips, as well as a new Thingiverse Developer Portal.

To show what's possible and how powerful Thingiverse apps can be, MakerBot partnered with 3D Hubs to implement their print fulfillment service on Thingiverse, bringing 3D printing to everyone, even those who don't own or have access to a 3D printer. MakerBot also partnered with Mixed Dimensions to implement a MakePrintable app that allows users to analyze and repair 3D design files before printing them. The new Thingiverse Developer Program and the 3DHubs and MakePrintable apps are expected to launch in the next few weeks.
"MakerBot has been leading the 3D printing revolution by popularizing desktop 3D printing, developing a connected experience around its printers, and growing the largest 3D printing community in the world," said Jonathan Jaglom, CEO of MakerBot. "What makes Thingiverse special is the incredibly talented community of designers who share their work with the world. The new Thingiverse Developer Program will enable even greater possibilities in the Thingiverse community by adding new functionalities and services while giving designers full control over how their content is being used. The sky is the limit in terms of what's possible and we can't wait to see what developers come up with."
"Thingiverse is the place on the Internet where most people go to get started with 3D printing," said Walter Hsiao, a popular designer on Thingiverse. "Allowing developers to add new functionalities to Thingiverse is a great idea. Specifically, I would love to see apps that help people transition from downloading to designing."
New App APIs
The existing Thingiverse API allows developers to create apps for other platforms, such as smartphones or tablets, that access data from and publish things directly to Thingiverse. The new Thingiverse Developer Program adds Thing App APIs that extend the functionality of Thingiverse itself. The new Thing App APIs enable developers to create apps that appear directly on a Thing page, including three different categories: print apps that provide print services, customization apps that allow users to customize a thing, and tools/utilities apps that analyze, fix or modify a thing.
Designers will continue to control the distribution and use of their content by turning apps on or off for each of their objects. Thing Apps will also obey the terms of the Creative Commons licenses that designers chose for their things.
In App Purchases and Tips
In app purchases and tips for Thingiverse allow app developers to charge for services they offer within their app and designers to receive a cut of these payments through tips. Both in app purchases and tips will only be available for things that are licensed under a Creative Commons license that allows for commercial use and designers can opt out of apps at any time.
Designers that allow an app to work with their thing can decide if they want to receive a voluntary or mandatory tip when the app uses their content and charges for their services. Thingiverse will also offer general tipping for designers outside of apps. This is a way to give back to the people that invest their time and energy to share their work with the world and MakerBot will not receive a cut from tips paid to designers. To receive tips, designers simply connect their PayPal account to Thingiverse.
For developers, Thingiverse takes care of all the payment processing complexities and makes it easy to view and manage orders.
Thingiverse Developer Portal
MakerBot is also launching a new Developer Portal to provide documentation, resources, and enrollment for developers. The Developer Portal includes instructions on how to develop apps for Thingiverse, how to submit apps to MakerBot, and a new sandbox that allows developers to test their apps. The Developer Portal also outlines developer guidelines and lets developers manage their apps and view analytics such as app usage, views, download numbers, and payments.
New Thingiverse Apps
3D Hubs, the world's fastest growing network of 3D printing services, is launching the first 3D print fulfillment app for Thingiverse using the new Thing App APIs. The integrated App adds a "Print" button to Thingiverse designs licensed under a Creative Commons license that allows for commercial use. This allows users to directly 3D print the object at the nearest 3D Hubs location. Once purchasers are in the 3D Hubs checkout process, they can tip the Thingiverse designer that created the file. Just like with any other app that uses the new Thing App APIs, designers have full control over whether they give 3D Hubs access to their things and whether they want to allow tips or not.
MakerBot and 3D Hubs believe that this partnership will help make 3D printing more accessible and increase the global adoption of the technology. For example, educators who want to teach 3D design in the classroom but don't have access to a 3D printer can easily upload their designs to Thingiverse and get them 3D printed around the corner. The partnership also has the potential to increase the audience for designers' work and offers a way to reward them for sharing their work. 3D Hubs has over 29,000 3D printing hubs worldwide, enabling 1 billion people to 3D print within 10 miles of their home.
MakerBot will be hosting a meet & greet event with 3D Hubs on April 11, 2:30 pm, at the MakerBot booth (#104) at Inside 3D Printing in New York.
Another new app using the new Thing App APIs is Mixed Dimensions' MakePrintable, a cloud based mesh repair app that analyzes, validates and repairs most common mesh errors that can occur when preparing a 3D design file for printing. The MakePrintable app allows novice and intermediate Thingiverse users to achieve greater print success and fewer failed prints by identifying and fixing design flaws prior to printing a file. Some of these design flaws include non-manifolds, solidity, wall thickness, intersections, and flipped faces.
About MakerBot
MakerBot, a subsidiary of Stratasys Ltd. (Nasdaq: SSYS), believes there's an innovator in everyone, and sets the standard in reliability and ease of use. As a global leader in the desktop 3D printing industry, MakerBot offers a set of solutions that illuminate and guide every stage of the 3D printing process, making it easy to go from idea to end result. Founded in 2009, MakerBot has the largest installed base in the industry with more than 100,000 MakerBot Desktop 3D Printers sold to date. MakerBot also runs Thingiverse, the largest 3D printing community in the world. The company's industry-leading customers include designers, educators, engineers, and consumers. To learn more about MakerBot, visit makerbot.com.
Featured Product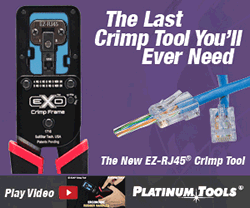 Platinum Tools is proud to present the newly patented EXO Crimp Frame® and EZ-RJ45® Die as our new EZ-RJ45 Crimp Tool! Built to terminate the original EZ-RJ45 connectors, which have been a staple in the industry for almost two decades, this crimp tool improves the trim and crimping processes of EZ-RJ45 connectors by using a single cycle crimp and flush trim.