Industry-leading speakers from industries including manufacturing, logistics, transport, energy and government join the IoT Tech Expos stellar line-up for the Central Europe event in Berlin this June
01 April 2016: The IoT Tech Expo, Europes leading Internet of Things conference and exhibition further extends its stellar speaker line-up for their upcoming event in Berlin, Germany on the 13-14th June. The IoT Tech Expo Central Europe event is taking place in Berlins Congress Center and is set to host 4,000 attendees, 200 speakers and 100 exhibitors. There will be five conference tracks with speakers from the likes of DHL, E.ON, Lufthansa, Sandvik, Coca-Cola, Volvo, SKF and Dixons Carphone. Conference tracks include Connecting Living, Connected Industry, Smart Cities, Data & Security and Developing & IoT Technologies.

Latest speakers include:
-Joerg Liebe, CIO, Lufthansa Systems AG
-Peder Arvidsson, Managing Director, Sandvik
-Christian Deilmann, Co-Founder & Managing Director, Tado
-Steve Moore, Connected Home Director, Dixons Carphone
-Einar Landre, Head of Drilling and Well Solutions, Statoil ASA
-David White, Business Solutions & Systems, Strategy & Architecture Coca-Cola Hellenic Bottling Co.
-Frank Alexander Reusch, Project Manager IT, RWE IT GmbH
-Til Landwehrmann, Program Manager Smart Home, EnBW Energie Baden-Württemberg AG
-Kris Feys, CIO, TVH
-Manoella Wilbaut, Head of Global Commercial Developments and Sustainability, DHL
-Lars Weber, Senior Programme Manager, E.ON
- Christian Gill, Director Industrial Solutions and Service Technologies, SKF
- Richard Harless, Country Manager, Germany, Shazam
-Jesper Toubøl, Vice President Elements and Moulds, LEGO A/S
-Peter Virk, Head of Connected Technologies and App, Jaguar Land Rover
-Steffen Rasmussen, Head of Department, Traffic Design, City of Copenhagen
-Tania Aydenian, Internet of Things Program Director, Orange
-Jon Carter, UK Head of Business Development, Connected Home, Deutsche Telekom
-Petra Sundström, Director Group Connectivity, Husqvarna Group
-Christian Tordo, Deputy Mayor, City of Nice
-Scott Lyons, Connected Vehicle and Services, Ford
-Gustaf Landahl, Head of Department, City of Stockholm
-Jaak Vlasveld, Director, Green IT Amsterdam
View the full speaker line-up, conference agendas and register your pass here: www.iottechexpo.com/germany
Super early bird prices end Friday 1st April so register now to save up to €260 on your delegate pass!
To learn more about the IoT Tech Expo and register your pass, visit the corresponding sites:
• IoT Tech Expo Central Europe: 13-14th June, Berlin Congress Center bcc, Germany
• IoT Tech Expo North America: 20-21st October, Santa Clara Convention Center, San Francisco, CA
• IoT Tech Expo Global: 23-24th January 2017, Olympia, London
For speaking, sponsorship and exhibitor enquiries please contact the team at enquiries@iottechexpo.com or call on +44 (0) 117 980 9023.
About IoT Tech Expo
The IoT Tech Expo World Series will host top level content and discussion, introducing and exploring the latest innovations in the Internet of Things arena. It brings together key industries including Manufacturing, Transport, Health, Logistics, Government, Energy and Automotive.
Featured Product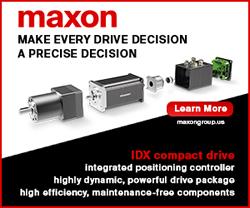 The compact brushless EC-i motor combined with an EPOS4 positioning controller delivers a highly dynamic, powerful drive package with field-oriented control (FOC), high efficiency, and maintenance-free components in a high-quality industrial housing. The maxon IDX drives are suitable for use across the entire speed range (from standstill to maximum speed) and have an extremely high overload capability. Together with a positioning controller, the integrated sensor (single turn) enables absolute positioning.