Strengthening FA Product Service Network in Southern Europe and Africa
TOKYO--(BUSINESS WIRE)--Mitsubishi Electric Corporation (TOKYO:6503) announced today the establishment of two factory automation ("FA") centers, the Italy FA Center in Milan, Italy, and the South Africa FA Center Satellite in Johannesburg, South Africa. This strategic move will expand the FA product support network in Southern Europe and Africa, while also strengthening and accelerating local customer service. Both FA centers will commence product support services from April 1.

The production of electric machinery is thriving in Italy, and Mitsubishi Electric foresees increasing demand for product support services in the automation sector. Meanwhile, South Africa is seeing rising investment in social infrastructure projects, which is expected to draw an increased number of Japanese manufacturers and drive growth in local industries such as mining.
Until now, FA product services for Southern Europe and South Africa were handled by the Europe FA Center in Poland. The two newly established FA Centers will contribute to increased customer satisfaction by providing more rapid and locally tailored services to these regions.
Featured Product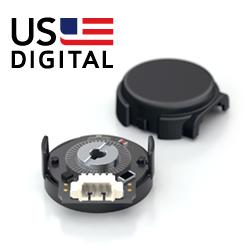 US Digital is pleased to announce the launch of the E4T, their latest series of miniature high performance optical encoders. The E4T series delivers a marked performance increase over similar encoder models and designed to be an enhanced replacement for the E4P encoder series. The E4T utilizes state of the art transmissive optical sensing technology, and incorporates US Digital's own proprietary OptoASIC. Assembly of the E4T is simple and efficient and retains the previous E4P's form factor. Key features of the new E4T include: • Mechanically and Electrically Interchangeable with E4P • Improved Quadrature Signal Strength • 100 kHz Frequency Response • Transmissive Optical Design • Collet Style Push on Optical Disk Design (Patent Pending) • Simple & Efficient Assembly Process As with all of our products the E4T is designed and manufactured in their Vancouver, Washington USA facility and is available for purchase as of December 2014.