Award granted to Dan Estrada in recognition of Eyelits many contributions to the FOA
TORONTO--(BUSINESS WIRE)--Eyelit Inc., a manufacturing software provider for visibility, control, and coordination of manufacturing operations for the aerospace & defense, discrete electronics, life sciences, medical device, semiconductor, and photovoltaic (solar) industries, announced today that the company has received an award for "Outstanding Associate Member" from the FOA.

Accepting the award on behalf of Eyelit was Dan Estrada, Eyelits Vice-President of Sales and Marketing, at the 2016 Collaborative Forum on February 11, 2016. This occasion marked the second time that Dan has received this award since Eyelit joined the FOA in 2007. As the member representative for Eyelit, Dan has been an active contributor to the association, and serves on the advisory committee to the FOA Board of Directors. At the 2014 Collaborative Forum, Eyelit and MAX I.E.G. delivered a persuasive joint presentation, "Modern MES as Business Driver for Positive Change." The presentation included success stories from leading device manufacturers that migrated from a legacy MES to Eyelits modern suite of software.
The FOA is an international, nonprofit, trade association of semiconductor & MEMS fab owners and industry suppliers who meet regularly to discuss and act on common manufacturing issues, combining strengths and resources to become more globally competitive. As an associate member company of the FOA, Eyelit represents a provider of valued solutions to the semiconductor manufacturing industry.
"Dan has been instrumental in promoting the association and driving growth in memberships of device-maker companies," stated L.T. Guttadauro, Executive Director of the FOA. "We have recognized Dans significant contributions and have awarded Eyelit as an Outstanding Associate Member once again this year. Thank you, Eyelit, for your continuing dedication to the FOA."
"The FOA provides a great opportunity for networking and building relationships with our existing customers, as well as the entire semiconductor industry," stated Dan Estrada. "We see tremendous value in our FOA membership and are grateful to the FOA for this recognition."
About the FOA (www.waferfabs.org)
Fab Owners Association (FOA) is an international, nonprofit, mutual benefit corporation composed of semiconductor and MEMS manufacturers, along with our industry suppliers. FOA is headquartered in Cupertino, California, in the heart of Silicon Valley. FOA was conceived to provide a forum for semiconductor manufacturing executives to discuss and act on common manufacturing issues. The association was founded in 2004.
About Eyelit Inc. (www.eyelit.com)
Eyelit Inc. is the leader in Manufacturing Execution and Quality Management (MES and QMS) solutions for visibility, control, and coordination of manufacturing operations for the aerospace & defense, electronics, life sciences, medical device, semiconductor, and solar industries. Eyelit uniquely delivers a broad set of manufacturing solutions, including Asset Management (Semi E10, SEMI PV2-0709), Dispatching, Factory Integration (Automation), Manufacturing Execution (MES/MOM), Recipe Management, Supply Chain Management, Quality Management (CAPA/OCAP/SPC/APC/RMA), and Business Process Management, that enable its customers to rapidly and cost-effectively optimize production and company processes.
With exceptional customer service, Eyelit has time and again proven that superior, innovative technology can maximize efficiency and value. More than 50 leading companies, including Ascent Solar, austriamicrosystems, CEA-Leti, CEITEC, eMagin, FLIR Systems, Innovative Micro Technology (IMT), Kionix, Mellanox, Mentor Graphics, Murata Electronics Oy, NXP Semiconductors, PerkinElmer, Raytheon Company, SEMATECH, TowerJazz, Umicore, and X-FAB, rely on Eyelit as a trusted software partner. Follow Eyelit on LinkedIn and Twitter.
Featured Product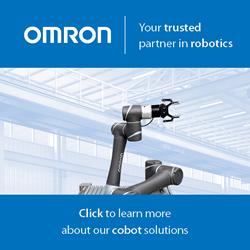 Humans and robots can now share tasks - and this new partnership is on the verge of revolutionizing the production line. Today's drivers like data-driven services, decreasing product lifetimes and the need for product differentiation are putting flexibility paramount, and no technology is better suited to meet these needs than the Omron TM Series Collaborative Robot. With force feedback, collision detection technology and an intuitive, hand-guided teaching mechanism, the TM Series cobot is designed to work in immediate proximity to a human worker and is easier than ever to train on new tasks.