Latest developments in computer aided engineering also in focus at Plastics in Automotive Engineering Congress
DuPont Performance Materials will be an active participant at the annual VDI Plastics in Automotive Engineering Congress in Mannheim, Germany on 9-10 March 2016. DuPonts presence underlines its ongoing commitment to working together with OEMs and suppliers to identify new solutions to the challenges of reducing vehicle emissions through lighter, stronger materials.

In line with the main theme of the Congress, DuPont leaders look forward to engaging in discussion with partners around the latest developments in durable lightweight materials and innovative engineering technologies. As manufacturers continue to look for new cost-effective ways of bringing lower emissions and more fuel-efficient cars to market, DPM will present solutions that include:
Opportunities to reduce vehicle mass without compromising safety through the use of DuPont™ Vizilon™ thermoplastic composites in different structural applications
Significant costs savings and performance gains through the use of DuPont™ Hytrel® thermoplastic elastomer in jounce bumpers as a replacement for incumbent foam polyurethane
Latest applications of DuPonts portfolio of high temperature tolerant materials DuPont™ Zytel® nylon resin; DuPont™ Hytrel® and DuPont™ Vamac® ethylene acrylic elastomer to enable the downsizing of engines
In addition to product specific initiatives, DuPont leaders look forward to sharing first-hand perspectives on recent advances in computer aided predictive engineering, and its huge potential for design, performance, emissions reduction, cost savings and safety.
"The VDI Congress is a landmark event in the calendar for industry leaders to come together and share new ideas. Our presence in Mannheim will allow us to share perspectives with partners and learn more about how our materials and collaborative design processes can help them develop ever safer, more environmentally friendly and higher performing products" said Patrick Cazuc, Global Automotive Marketing Director for DuPont Performance Materials.
DuPont Performance Materials (DPM) DuPont Performance Materials (DPM) is a leading innovator of thermoplastics, elastomers, renewably-sourced polymers, high-performance parts and shapes, as well as resins that act as adhesives, sealants, and modifiers. DPM supports a globally linked network of regional application development experts who work with customers throughout the value chain to develop innovative solutions in automotive, packaging, construction, consumer goods, electrical/electronics and other industries. For additional information about DuPont Performance Materials, visit http://plastics.dupont.com.
DuPont (NYSE: DD) has been bringing world-class science and engineering to the global marketplace in the form of innovative products, materials, and services since 1802. The company believes that by collaborating with customers, governments, NGOs, and thought leaders we can help find solutions to such global challenges as providing enough healthy food for people everywhere, decreasing dependence on fossil fuels, and protecting life and the environment. For additional information about DuPont and its commitment to inclusive innovation, please visit http://www.dupont.com.
Featured Product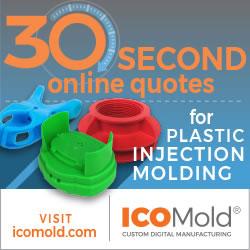 ICOMold provides plastic injection molding, CNC machining of plastic and metal, and urethane casting to customers worldwide in a variety of industries. We offer low-cost, high-quality custom plastic parts manufactured to your design, with a very fast turnaround. Any quantities from single prototypes to large, on-demand production runs. We are ISO 9001:2015 certified, and our production molds carry a lifetime warranty. Get an online quote in less than 30 seconds with our interactive quotation system.