Industrial camera manufacturer IDS Imaging Development Systems now offers lenses that are suitable for its USB 3.0 cameras with a resolution up to 3 MP and a sensor format up to 2/3". The new Fujifilm HF-XA series maintains high resolution across the entire image even with change of aperture and working distance. It consists of five models with fixed focal length: 8, 12, 16, 25 and

35 mm.
The compact C-Mount lens comes with a small diameter measuring only 29.5 mm. Combined with IDS CMOS cameras of the USB 3 uEye CP series measuring only 29 x 29 mm, it is especially suitable for applications in small working spaces. The 3 Megapixel lenses fully resolve at a pixel pitch of 4.4 μm, and they provide high resolution across the entire image even with change of aperture and working distance. This enables a flexible usage of the lenses in versatile applications with consistent image quality. Especially the new USB 3.0 industrial camera UI-3160CP with ON Semiconductors fast 2.3 MP CMOS sensor PYTHON 2000 (full resolution: 1920 x 1200 pixels, Full HD with more than 180 fps), it delivers sharp images from the image center to the corners.
The lenses support a sensor size of 2/3" but they are applicable even on larger sensor sizes of IDS industrial cameras up to 1/1.2" such as models with Sony IMX174 sensor.
Featured Product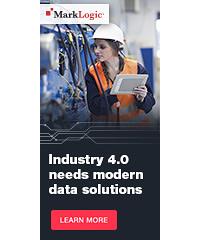 Use Data to Deliver Efficiency, Reduce Risk, and Create Better Products. Disruptive technologies and market changes are transforming the manufacturing industry, requiring a new focus on optimizing use of data and information. It all adds up to a new industrial revolution called Industry 4.0. Organizations who want to realize the potential of this revolution need to "Industrialize their data," making it a core asset to deliver better products and customer service, navigate complex business environments, and transform for the future. MarkLogic customers are delivering on this vision for data with a proven architectural pattern called the Operational Data Hub that simplifies the integration of data along the digital thread to power operational and analytic use cases across the enterprise.