Industrial camera manufacturer IDS Imaging Development Systems now offers lenses that are suitable for its USB 3.0 cameras with a resolution up to 3 MP and a sensor format up to 2/3". The new Fujifilm HF-XA series maintains high resolution across the entire image even with change of aperture and working distance. It consists of five models with fixed focal length: 8, 12, 16, 25 and

35 mm.
The compact C-Mount lens comes with a small diameter measuring only 29.5 mm. Combined with IDS' CMOS cameras of the USB 3 uEye CP series measuring only 29 x 29 mm, it is especially suitable for applications in small working spaces. The 3 Megapixel lenses fully resolve at a pixel pitch of 4.4 μm, and they provide high resolution across the entire image even with change of aperture and working distance. This enables a flexible usage of the lenses in versatile applications with consistent image quality. Especially the new USB 3.0 industrial camera UI-3160CP with ON Semiconductor's fast 2.3 MP CMOS sensor PYTHON 2000 (full resolution: 1920 x 1200 pixels, Full HD with more than 180 fps), it delivers sharp images from the image center to the corners.
The lenses support a sensor size of 2/3" but they are applicable even on larger sensor sizes of IDS' industrial cameras up to 1/1.2" such as models with Sony IMX174 sensor.
Featured Product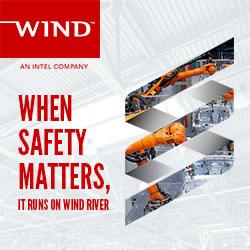 When it comes to ensuring the development of can't-fail systems, Wind River® is a leader with a proven track record of success. With more than 30 years of experience in embedded software and a portfolio of products deployed across more than 2 billion devices, Wind River delivers safety and security when it counts most. From industrial automation to automotive systems, as well as in healthcare devices, railway operations, and throughout the aerospace and defense sector, Wind River has extensive expertise providing built-in safety for complex, connected, safety-critical systems.