Now in its fourth edition in New York City, Inside 3D Printing is the leading professional 3D printing event worldwide.
(New York, NY - February 29, 2016) - Rising Media, Inc. announced the agenda for the Inside 3D Printing Conference & Expo, taking place on April 10-12, 2016 at the Javits Convention Center in New York City.

Now in its fourth edition in New York City, Inside 3D Printing is the leading professional 3D printing event worldwide.
The conference program for Inside 3D Printing New York focuses on four key facets of the 3D printing industry, with dedicated tracks covering Business, Manufacturing, Medical, and Metal. Experts in these industries will discuss technological advancements, business challenges, and new applications of additive manufacturing.
These focus areas mark Inside 3D Printings strong B2B roots, showcasing its commitment to business and industrial applications of 3D printing.
"The Additive Manufacturing market is refusing to follow the hype curve predictions, as it continues to experience two digit CAGR year after year. A combination of new materials, new technologies, and new applications are driving this exponential growth," said Hod Lipson, Professor, Columbia University and Inside 3D Printing Conference Chair.
He continued, "This year we tried to create a program that gives attendees a taste of some of these new business models as well as a glimpse of new technologies just around the corner. Its great to see all the predictions being corrected upwards."
Inside 3D Printing also revealed its first five confirmed standalone keynote speakers, including:
• Magnus René, CEO, Arcam Group
• Jonathan Jaglom, Chief Executive Officer, MakerBot
• Terry Wohlers, Principal Consultant and President, Wohlers Associates, Inc.
• Pete Weijmarshausen, CEO, Shapeways
• Tyler Benster, General Partner, Asimov Ventures
The event will also feature a keynote panel titled, "The Future of Metal AM: Delivering on the Promise." Confirmed for the panel are: Geoffrey Doyle, President, FIT West Corp. (Moderator); Ric Fulop, Founder & CEO, Desktop Metal; Winthrop Sheldon, West Region Sales Manager, SLM Solutions; and Terry Wohlers, Principal Consultant and President, Wohlers Associates, Inc.
Inside 3D Printing New York also features a full day of workshops, the Frontier Tech Showdown sponsored by Asimov Ventures, and an exhibit hall with 55+ sponsors and exhibitors.
Inside 3D Printing New York is co-located with Rising Medias RoboUniverse and Virtual Reality Summit.
Prices increase on March 4, so register before to save with early bird pricing. For more information and to register for Inside 3D Printing New York, visit inside3dprinting.com/new-york.
If your company is interested in sponsoring or exhibiting at Inside 3D Printing New York or an upcoming event, please contact sponsorship@risingmedia.com.
Following events earlier this year in Singapore and Düsseldorf, Inside 3D Printing has events confirmed for 2016 in São Paulo, New York, Sydney, Paris, Seoul, Tokyo, Shanghai, Mumbai, and San Diego. To learn more about upcoming Inside 3D Printing events, visit inside3dprinting.com/upcoming-events.
About Rising Media
Rising Media is a global events and media producer excelling in Internet and technology-related events and content. Events include Inside 3D Printing, RoboUniverse, Virtual Reality Summit, Data Driven Business, Building Business Capability, Predictive Analytics World, Text Analytics World, eMetrics Summit, Conversion Conference, AllFacebook Marketing Conference, Search Marketing Expo, Affiliate Management Days and Web Effectiveness Conference in the USA, United Kingdom, Germany, France, Dubai, India, China, Korea, Singapore, Australia, Brazil.
For more information, please visit www.risingmedia.com.
For press inquiries, please contact media@risingmedia.com.
Featured Product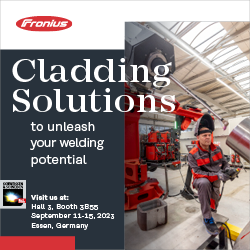 Ever since the invention of our "cold" MAG welding process Cold Metal Transfer (CMT), if not earlier, we have continuously achieved a technological edge in many welding-related areas, resulting in cutting-edge mechanized and automated welding systems. Advanced power source technology stabilizes the arc and ensures perfect welding results. Modern monitoring sensors optimize guidance of the welding torch and compensate for component tolerances. Last but not least, smart data documentation systems assist in perfecting the welding process. Collaborative systems, smart sensor technology, software solutions for data management, and offline programming including welding simulation open up profitable welding opportunities for metal processing companies starting with a single batch. That is why our robotic welding cells prove profitable not only for large companies, but also for small and medium-sized enterprises.