Conformal Sensors, Antennas and Circuitry Printed onto 3D Structures Show Real-World Applications
ALBUQUERQUE, N.M.--(BUSINESS WIRE)--Optomec, a leading global supplier of production grade additive manufacturing systems for 3D printed metals and printed electronics, announced today that Dr. Kurt Christenson, Senior Scientist for Optomec, will give a presentation titled "Aerosol Jet Printing of Antennas and Sensors for Smart Internet of Things (IoT) Devices" at the FLEX 2016 Conference in Monterey, California on Thursday, March 3rd. Dr. Christensons presentation will provide information on the utilization of Aerosol Jet printing technology for mass production of a variety of 3D antennas, sensors and circuitry used for mobile and industrial Internet of Things applications. Material considerations and case studies will be presented, comparing Aerosol Jet printing to traditional fabrication methods. Examples of 3D printed short range and long range antennas, electrical and optical sensors, via filling, wrap-around printing, and five axis motion will be shown. In addition to Dr. Christensons presentation, Optomec will be showcasing Aerosol Jet printers in booth #303.

"Aerosol Jet Printing of Antennas and Sensors for Smart Internet of Things (IoT) Devices"
Tweet this
Optomec Aerosol Jet technology is used by a wide variety of industries to directly print functional electronic circuitry and components onto low-temperature, non-planar substrates, without the need for masks, screens or plating. Optomec 3D printed electronics solutions are based on its industry proven Aerosol Jet technology for printing conformal electronic circuitry and components onto 3D structures. The Aerosol Jet process utilizes an innovative aerodynamic focusing technique to collimate a dense mist of material-laden micro droplets into a tightly controlled beam to print features as small as 10 microns or as large as several millimeters in a single pass. A wide assortment of materials can be printed with the Aerosol Jet system including conductive nano-particle inks, polymers and epoxies, along with dielectrics, ceramics, and bioactive materials. Aerosol Jet systems are currently in use for high volume, 24/7 production of consumer electronic devices. Click here for more information on Optomec 3D printing technology for IoT applications.
Now in its 15th year, the 2016 FLEX conference is the premier technical event in the industry, focused on advancing technical and business interests in flexible, printed, hybrid electronics and their applications. Over 600 attendees are expected to attend the event at the Monterey Marriott, February 29-March 3, 2016. The event, organized by FlexTech Alliance, a SEMI Strategic Association Partner, features market and technical presentations, short courses, poster sessions, exhibits and more-all focused on the creation of flexible, printed, hybrid devices, including new materials, processes, equipment, devices and products. For more information on the conference, click here.
Optomec is a privately-held, rapidly growing supplier of Additive Manufacturing systems. Optomecs patented Aerosol Jet Systems for printed electronics and LENS 3D Printers for metal components are used by industry to reduce product cost and improve performance. Together, these unique printing solutions work with the broadest spectrum of functional materials, ranging from electronic inks to structural metals and even biological matter. Optomec has more than 200 marquee customers around the world, targeting production applications in the Electronics, Energy, Life Sciences and Aerospace industries. For more information about Optomec, visit optomec.com.
Featured Product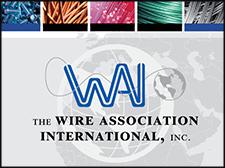 The Wire Association International (WAI), Inc., founded in 1930, is a worldwide technical society for wire and cable industry professionals. Based in Madison, Connecticut, USA, WAI collects and shares technical, manufacturing, and general business information to the ferrous, nonferrous, electrical, fiber optic, and fastener segments of the wire and cable industry. WAI hosts trade expositions, technical conferences, and educational programs.