Hosted by Siemens and Electro-Matic, the Manufacturing in America Event provides a key platform for manufacturing executives and engineers to explore how new technologies and digitalization in manufacturing create opportunities to gain a competitive edge.
AUBURN HILLS, MI - February 25, 2014 - Patti Engineering, Inc., a leader in control systems integration, today announced details of its participation in Manufacturing in America 2016, hosted by Electro-Matic and Siemens. The event will take place March 23-24, 2016 at Ford Field in Detroit, MI. Patti Engineering will be exhibiting for the 7th consecutive year and will present a technical seminar called "Upgrading Legacy Siemens S5 PLCS with the New TIA Portal."

The Manufacturing in America (MiA) is a highly anticipated networking, collaboration, and learning event for executives, engineers, and all members of the manufacturing community. Industry leaders will kick-off the two day MiA event at the Automotive Manufacturing Summit the morning of March 23rd. The automotive industry is at the forefront of adopting new technologies and embracing digitalization in manufacturing. The worlds leading experts on the digitization in manufacturing will be on hand to share how new technologies, hyper connectivity, robotics, and integrated software solutions are creating new opportunities for companies.
This year, MiA features over 50 exhibits and over 100 technical seminars as part of the Automotive Manufacturing Summit. The technical seminars are broken in to four learning paths for Automation and Controls Engineering, Drives and Motion, Energy and Facilities Management, and Plant Engineering and Maintenance. Charlie Rysenga, Electrical Engineer at Patti Engineering, will present "Upgrading Legacy Siemens S5 PLCs with the New TIA Portal" on March 24 at 11:00 a.m. This is the second year Patti Engineering has presented on the topic, due to its popularity.
"We look forward to the Manufacturing in America event every year. Its a great source of professional development and networking for many of our employees and myself," said Sam Hoff, President of Patti Engineering. "Siemens S5 PLC upgrades are in demand, so were looking forward to Charlie Rysenga sharing best practices. There are many benefits of performing upgrades, including enhanced scalability, reduced maintenance time and costs, increased system speed and throughput, and greater availability of modern hardware covered."
Patti Engineering, is a CSIA certified control system integrator and a Siemens Automation Solution Partner. Engineers on staff are highly trained on Siemens automation products and many have completed the rigorous Siemens Global Technical Certification in the Simatic technology areas of S7 PLCs, Simatic HMIs, Simatic Networking, and Siemens Drive Technologies including CNC. Electro-Matic Products, Inc. is a leading supplier of Siemens automation products and a complementary group of high technology components. Patti Engineering often teams up with Electro-Matic and Siemens to offer customers the complete package of products and services for seamless project execution.
Registration is free and accessible online at AttendMiA.com.
About Patti Engineering, Inc.
Patti Engineering, Inc. is a CSIA Certified control systems integration company offering high-caliber engineering and software development services. Patti Engineerings technical expertise in electrical control and information systems provides turnkey control systems integration for design/build, upgrade/retrofit and asset/energy management projects. Industrial automation, production intelligence and shop floor IT solutions services include: project management, electrical engineering, hardware design, hardware procurement, software development, installation, calibration, start-up testing, verification, documentation, training and warranty support. Customer satisfaction and project success earned the company placement in the Control Engineering Magazines Hall of Fame. For more information, visit www.pattieng.com.
Featured Product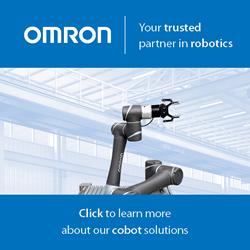 Humans and robots can now share tasks - and this new partnership is on the verge of revolutionizing the production line. Today's drivers like data-driven services, decreasing product lifetimes and the need for product differentiation are putting flexibility paramount, and no technology is better suited to meet these needs than the Omron TM Series Collaborative Robot. With force feedback, collision detection technology and an intuitive, hand-guided teaching mechanism, the TM Series cobot is designed to work in immediate proximity to a human worker and is easier than ever to train on new tasks.