The gateway enables built-in Analytics Services, to Develop solutions and Industry prototypes hence channelizing the best of IoT ecosystem
The triumphant team of Winjit garnered lot of queries for their advance IOT delivery model at the prestigious Mobile World Congress which opened on the 22nd of February at Barcelona.

The state of the art IOT Gateway facilitates deployment and management of smart and secure IoT Solutions connected through the cloud & offers the flexibility to innovate and transform business at an economical cost across multiple operating systems and protocols.
On their second day of engagements at MWC 2016 , Barcelona, Winjit's participating team saw lot of enthusiastic exploration of their IOT applications for the manufacturing and smart city projects.
Commenting on the massive turnaround at the prestigious global platform, Mr. Abhijit Junagade, Co-Founder, Winjit Technologies said "We are overwhelmed to see the zealous visitors at our IOT Arcade at the Mecca of Mobile Technology. IOT seems to be one of the major highlights at this years congress & we are very enthusiastic to unveil the ground-breaking IOT possibilities across a variety of Industrial Verticals."
Equipped with Intelligent analytics, the gateway seamlessly manages the lifecycle of an IoT deployment. Provisions to connect to a legacy system enables IoT infrastructure, networks, embedded systems and third party apps, thus helping businesses transform.
Catering to a plethora of Industrial Verticals like Industrial Enterprises, Manufacturing, Energy & Mining , Winjit has been facilitating Parking & Traffic solutions for smart cities through Embedded wireless Sensors which gather data and send to the cloud via Winjit IoT Gateway, the information then can be made available to the application through APIs. The information can range from traffic jam zone alert, probable delay before the trip, parking fees information etc. This helps the driver reroute the car to an open parking spot there buy eliminating his hunting time. This context-aware intelligence can hence enhance effortless functioning of a smart city.
Winjit@MWC
With over a decade of experience in enterprise mobility and cloud computing, Winjit is currently at the forefront in developing solutions for Internet of Things(IoT). Armed with expertise in hardware engineering & software development, company is all set to launch unique solution - Winjit IoT gateway. It will provide end to end solution for third party developers to develop easily deployable and scalable IoT application with its strong ecosystem of APIs, SDK. This will allow the developers to leverage capabilities of the modern cloud with high end security. Meet the IOT experts at Hall 8.0 Stand 8.0D40.
Featured Product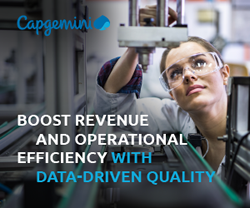 A reactive manufacturing cycle of building, inspecting, and correcting is no longer sufficient to meet rising customer wants and demands. To break this ineffective cycle, organizations must have a robust data-driven solution that combines a proactive focus on quality with integrated analytics and automation capabilities to turn quality control from a liability into an asset.