Laser systems can process nearly all materials, but hard, brittle, transparent materials such as glass, sapphire or ceramic pose a special challenge. At LASYS 2016, users will find a comprehensive range of innovative solutions and a high level of expertise.
With the success of the smartphone, the tablet PC and co., the importance of glass processing has increased significantly. Whereas conventional cutting processes have reached their limits, the laser is very suitable for the cutting of thin, hardened and non-hardened display glass panels with high quality and productivity. Anyone looking for expertise and economical solutions for the laser processing of brittle materials will be well advised at the international trade fair LASYS 2016 from 31 May to 2 June in Stuttgart, the focus of which will be exclusively on laser material processing. Around 200 exhibitors will present applications of the latest laser production systems, laser-specific components and subsystems that are in use for various materials across many industries.

Clean cutting edges, hardly any post-treatment
Laser systems are known for being able to process nearly all materials, but hard, brittle, transparent materials such as glass, sapphire, acrylic or ceramic pose a special challenge. "For cutting glass and ceramic, it's important to achieve clean cutting edges, high precision and long-term stability, as well as the minimisation of wear on the processing tools," says Georg Hofner, spokesman of the Board of Management at the LASYS exhibitor Scanlab. The characteristic properties of glass pose a special challenge for laser systems, because glass is brittle, transparent for visible light, has low heat conductivity and, in the event of non-uniform heating, tends to be subject to tensions that may cause cracking. "Hardened cover glass for smartphones, for example, is practically impossible to cut using conventional processes. Here, only lasers offer efficient and economical cutting options," says Christof Siebert, Manager of Sector Management for Microprocessing at Trumpf Laser- und Systemtechnik. According to the Trumpf expert, cutting with diamond wheels proves to be inflexible. Using this method, it would be difficult to cut variable contours. And during milling work, cracks would appear, leading to intensive post-treatment and thus increased costs. In recent years it has become apparent that ultra-short pulse laser systems are ideal for processing brittle and transparent materials. "The ultra-short pulses in the pico- and femtosecond range do not generate heat, and skilful process control results in high cutting speeds. Our multiple-control lasers cut with high process safety," explains Siebert.
Any contours thanks to scanning systems
High-quality cutting edges and flexible, economical working are also ensured, for example by scanning systems like those from Scanlab. "With the combination of ultra-short pulse lasers with scanning systems, practically simultaneous processing can be achieved. Thanks to "cold" ablation via a scanner, the material to be cut - for example sapphire glass - is not melted, but vaporised. The process involves the repeated, exact following of the contour with the scanner, and places great demands regarding the precision and repeat accuracy of the scanning system," states Hofner. In his view, scanning heads with particularly high dynamics and innovative control technology are most suitable for brittle and transparent materials. "By means of a target trajectory calculated in advance, the scanning system always accelerates at the maximum possible rate and thus avoids tracking errors and inaccuracy in processing," Hofner continues.
New technology saves time and costs
The LASYS exhibitor Rofin will present new technology. Dr. Roland Mayerhofer, head of research, development and design at Rofin Baasel Lasertech, explains: "Our laser system SmartCleave uses ultra-short laser pulses with specially optimised properties. A laser filament process ensures that brittle, transparent materials are separated in an extremely fast, residue-free process without producing cutting kerf." The procedure also makes possible the cutting of any contours, even with small radii, in a single work step. "This new process is the intelligent way to reduce mechanical post-treatment, which involves additional time, costs and work, to a few steps," says Dr. Mayerhofer. Thanks to such new technologies, major areas of application are opening up. The application range includes smartphone displays made of hardened and non-hardened glass or sapphire glass, TV, computer and tablet displays, LED and OLED products and other microelectronic components, glass substrates for integrated circuits, optical components, clocks, medical devices, architectural and household glass, as well as semiconductors and ceramics.
Economical, whether in individual or series production
In the graphic industry and many other sectors, the LASYS exhibitor Wallburg feels at home. "With our system solutions, for example for cutting glass and acrylic, precise and economical working is possible because they can be implemented flexibly and are ideal for individual production as well as large-scale series production, says Jürgen Wallburg, Managing Director of Wallburg. For cutting acrylic, it is especially important to use the right material in order to prevent stress cracks. "Furthermore, the laser system should be finely adjustable and work with a high pulse rate," adds Wallburg, "to ensure clean and narrow cutting edges."
LASYS 2016 with comprehensive portfolio
The laser sector is a very innovative sector, which will be reflected at LASYS 2016. Thanks to the further development of laser systems, the processing of brittle materials is becoming increasingly economical. But this is just a small sample of the comprehensive portfolio of laser material processing that will be on offer at LASYS 2016. An extensive framework programme will also accompany the exhibition. One special feature will be the Stuttgart Laser Technology Forum (SLT), which forms a bridge between research and industry.
About LASYS
As the only international trade fair, LASYS clearly focuses on system solutions in laser material processing. Since the start of the trade fair in 2008, it has successfully established itself as a user platform for the latest laser systems, machines and processes. LASYS addresses all industries and materials, in particular decision-makers from the international industry. The focus is on all tried-and-tested, but also innovative, manufacturing processes, applications and potential uses of laser in industrial manufacturing.
Other trade fairs are also taking place parallel to LASYS 2016 at the Stuttgart trade fair grounds, which create synergy effects for the visitors: the automotive shows with Automotive Testing Expo Europe, Engine Expo, Automotive Interiors Expo, Global Automotive Components and Suppliers Expo, and the Autonomous Vehicle Test & Development Symposium, as well as O&S, the international trade fair for surface treatments and coatings, and parts2clean, the leading international trade fair for industrial parts and surface cleaning.
The VDMA is a professional and conceptual supporter of LASYS.
LASYS takes place at the Stuttgart trade fair centre from 31 May to 2 June 2016.
Further information is available online at www.lasys-fair.com
Featured Product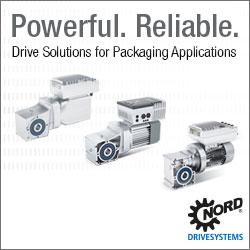 NORD's redesigned line of small CLINCHER parallel gear units showcase increased power and torque capacity for a variety of applications. These re-engineered versions will be replacing the existing SK0182NB, 0282NB, and 1382NB units. They are lightweight, have improved heat dissipation, are more cost-effective, and are available with NORD nsd tupHTM sealed surface conversion for wash-down and extreme environments.