 HALCON 12.0.2 will be released on February 29, 2016  Bar code identification significantly improved  Latest interface technology speeds up machine vision processes
Munich, February 16, 2016 - MVTec Software GmbH (www.mvtec.com), a leading supplier of innovative machine vision technologies, has optimized the functional range of HALCON, the standard machine vision software. The HALCON 12.0.2 release offers a number of new and improved features, including much more robust bar code identification. HALCON 12.0.2 now reliably reads bar codes particularly in the case of significantly overexposed images in which the code bars are displayed extremely narrow. It is able to read individual bars that are only five percent of their original width due to overexposure. In addition, images with high "print growth" can now be reliably identified. This happens when the bars become much too wide during printing because too much ink was used, thus making the code difficult to recognize. The software even reads code images whose individual bars are almost twice the normal width, which corresponds to a print growth of 95 percent.

The new HALCON version significantly improves the error-free identification of 2/5 bar codes. The release furthermore includes additional parameters for evaluating the print quality of data codes based on the AIM DPM-1-2006 and ISO/IEC 15415 standards. HALCON now also reads QR codes with Chinese characters that are encoded according to GBT 18284-2000, the Chinese national standard. As another important update, the streaming filter for the GigE Vision standard was revised so that it now also supports Windows 10. Developers will benefit from the new HALCON release as well. For instance, a new example program explains how to handle parallel programming in machine vision applications. In addition, improvements to the HDevEngine runtime environment have sped up program runtimes.
Machine vision with the latest standards
Not least, the image acquisition interfaces (IAIs), which use the GenICam standard, have been adapted to version v3.0.0 of the GenApi reference implementation in HALCON 12.0.2. This API (application programming interface) runs much faster and requires less storage space in the new version. With GenApi v3.0.0, the HALCON IAIs for USB3 Vision, GenICam GenTL, and GigE Vision thus now use the latest technology. MVTec itself is involved in developing these standards, for example as a contributing member of the GenICam standard group.
"We recommend that all HALCON 12 users take advantage of this release to upgrade to the latest version of HALCON 12 free of charge. It will allow them to use many features even more productively. We are especially proud of the improvements to HALCON's powerful identification technology features. 'Print growth' and overexposure when reading bar codes are constant challenges in many branches of industry - such as the packaging, logistics, and food & beverage sectors as well as retail. Systems based on the robust HALCON machine vision software not only help remedy this situation, they also set equally new standards in speed and flexibility," explains Johannes Hiltner, Product Manager for HALCON at MVTec Software GmbH.
The press release and images can be found at www.mvtec.com/company/press-room/press-release/detail/mvtec-releases-halcon-1202.
About HALCON
HALCON is the comprehensive standard software for machine vision with an integrated development environment (IDE) that is used worldwide. It enables cost savings and improved time to market: HALCONs flexible architecture facilitates rapid development of machine vision, medical imaging, and image analysis applications. HALCON provides outstanding performance and a comprehensive support of multi-core platforms and special instructions sets like AVX2, as well as GPU acceleration. It serves all industries, with a library used in tens of thousands of applications in all areas of imaging like blob analysis, morphology, matching, measuring, identification and 3D vision. HALCON secures your investment by supporting a wide range of operating systems and providing interfaces to hundreds of industrial cameras and frame grabbers, also for standards like GenICam, GigE Vision, and USB3 Vision. www.halcon.com
About MVTec
MVTec is a leading manufacturer of standard software for machine vision. MVTec products are used in all demanding areas of imaging: Semi-conductor industry, web inspection, quality control and inspection applications in general, medicine, 3D vision and surveillance. MVTec, with its head office in Munich (Germany), has more than 30 established distributors worldwide and in addition, MVTec, LLC works out of Boston, MA (USA). www.mvtec.com
Featured Product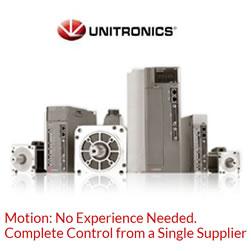 Unitronics' line of AC Servo Drives & Motors changes the traditional approach to motion control. They are simple to set up and painless to program. Unitronics Servos simplify implementation of motion applications while minimizing complexity and reducing development time. Some of the easy-to-use features in this new line include implementing motion control easily with ready-made motion code, embedded diagnostic tools, and automatic communication setup.