Increased product coverage and optional constraints enable simple, accurate holemaking technology selection
Dover, OH - Allied Machine & Engineering Corp, a leading manufacturer of holemaking and finishing tooling systems, announces updates to its Product Selector online recommendation tool. The program, which customers can use to find new tools to meet their needs or access critical data about their existing equipment, has been expanded to include more drilling products from the Allied catalogue, and to include several optional machine constraints. With these additions, Product Selector ensures that customers have full access to key data in their searches.

With the recent addition of the Flatbottom T-A® Drilling inserts and new T-A holders to the Product Selector catalogue, customers can now access Allied Machine drilling tools through the online recommendation tool. Additionally, customers now have the option to set machine power, thrust, and coolant capability as program constraints, ensuring that only tools appropriate for individual customers' applications are suggested by the program.
"The addition of new products to the Product Selector tool, as well as the optional constraints, ensure that we are able to give customers all of the information they need to make the best holemaking tool purchases possible," said Robert Brown, Product Manager at Allied Machine. "We are also able to provide fast, easy support for our existing customers who want a recommendation before use."
Product Selector gives customers access to information such as the recommended speed and feed for the tool, as well as power and coolant requirements. This is key in selecting new tools, and also gives customers a rapid and simple alternative to contacting Allied Machine's technical support for details on their existing equipment.
For more information about Product Selector, visit www.alliedmachine.com/adp/adpselect.aspx.
About Allied Machine & Engineering Corp.:
Allied Machine & Engineering Corp is a leading manufacturer of holemaking and finishing tooling systems. Allied devotes its advanced engineering and manufacturing capabilities to creating the widest selection of value-added tooling available to metal-cutting industries around the world. Our tooling solutions deliver the lowest cost-per-hole in a wide range of drilling, reaming, threading, and boring applications.
Located in Dover, Ohio, Allied's precision holemaking technologies provide end users worldwide with the highest level of drill performance. Precision engineering and expert application support make Allied the first and best choice for solving complex metal-cutting challenges.
Featured Product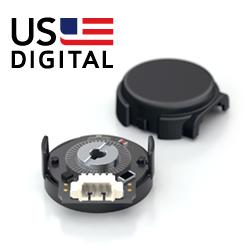 US Digital is pleased to announce the launch of the E4T, their latest series of miniature high performance optical encoders. The E4T series delivers a marked performance increase over similar encoder models and designed to be an enhanced replacement for the E4P encoder series. The E4T utilizes state of the art transmissive optical sensing technology, and incorporates US Digital's own proprietary OptoASIC. Assembly of the E4T is simple and efficient and retains the previous E4P's form factor. Key features of the new E4T include: • Mechanically and Electrically Interchangeable with E4P • Improved Quadrature Signal Strength • 100 kHz Frequency Response • Transmissive Optical Design • Collet Style Push on Optical Disk Design (Patent Pending) • Simple & Efficient Assembly Process As with all of our products the E4T is designed and manufactured in their Vancouver, Washington USA facility and is available for purchase as of December 2014.