Smartware Group, Inc. and Technology Evaluation Centers, Inc. survey highlights missing link between maintenance practices, software capabilities
Smartware Group, Inc. and Technology Evaluation Centers, Inc. (TEC) released today the results of a comprehensive survey of U.S. manufacturers and their usage of computerized maintenance and management system (CMMS) and enterprise asset management (EAM) software. An alarming 34 percent of survey respondents stated they arent capturing operational asset data at all. Of the 60 percent that said they are capturing this data, two-thirds said they do so manually.

The CMMS study findings demonstrate a significant gap between common maintenance practices in the field and existing technological tools. Modern data-driven asset management systems enable manufacturers to cut downtime and improve efficiency through programmatic evaluation of each assets health before a major maintenance issue arises. Non-existent or manual asset tracking exposes these organizations to increased risk of operational disruption.
"Theres a significant number of maintenance professionals who arent sure how to improve their current processes," said Paul Lachance, CTO and president of Smartware Group, Inc. "This study shows that manufacturers can do more to save time, money and resources by equipping their maintenance staff with modern processes and tools. The technology is out there, but maintenance professionals have yet to fully embrace it."
More than 100 small- and mid-sized manufacturers participated in the December 2015 survey, which found that 40 percent of respondents use a homegrown application or manual processes to manage their maintenance operations. Furthermore, almost 40 percent of all survey respondents indicated they are not aware of their systems deployment mode.
"Asset management is a fundamental practice that can be dramatically improved - for cost, time and trouble savings - through the smart functionality offered by current CMMS-EAM solutions," said Aleksey Osintsev, senior ERP research analyst at TEC. "Increased functionality that allows maintenance professionals to more efficiently track and assess asset health will be crucial for manufacturers moving forward."
Advancements, such as native mobile apps and improved automation capabilities, offer significant productivity gains for organizations, many of which cite software usability as critical to their adoption. In a separate survey of Bigfoot CMMS users last October, 92 percent of respondents rated the programs ease-of-use as average to excellent. To find out more about Smartware Group, Inc. and the Bigfoot CMMS solution, visit http://www.bigfootcmms.com.
About Technology Evaluation Centers (TEC)
Technology Evaluation Centers (TEC) is the worlds leading provider of software selection resources, services, and research materials, helping organizations evaluate and select the best enterprise software for their needs. With its advanced decision-making process and software selection experts, TEC reduces the time, cost, and risk associated with enterprise software selection.
Over 3.5 million subscribers leverage TECs extensive research and detailed information on more than 1,000 leading software solutions across all major application areas. TEC is recognized as an industry-leading software selection advisory firm offering resources and services both online and onsite. For more information, please visit http://www.technologyevaluation.com.
About Smartware Group, Inc.
Smartware Group, Inc., headquartered in Center Harbor, N.H., produces Bigfoot CMMS for manufacturing, distribution, data centers, hospitality, mining, and energy & utilities industries.
Since 2002, Bigfoot has helped more than 10,000 users worldwide improve facility and equipment maintenance operations with advanced capabilities that include preventive maintenance (PMs) and predictive maintenance, work order scheduling, maintenance requests, asset life cycle management, parts replacement inventory, and built-in reporting. Bigfoot CMMS native functionality paired with its intuitive design allows maintenance professionals to implement the solution and get results quickly, often in a matter of weeks.
The Bigfoot solution earned a Bronze Stevie® Award during the 11th Annual International Business Awards in the Best Interface Design category. Experience the Bigfoot difference by accessing a free trial at http://www.bigfootcmms.com/free-trial today.
Featured Product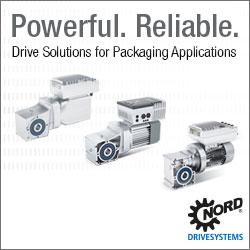 NORD's redesigned line of small CLINCHER parallel gear units showcase increased power and torque capacity for a variety of applications. These re-engineered versions will be replacing the existing SK0182NB, 0282NB, and 1382NB units. They are lightweight, have improved heat dissipation, are more cost-effective, and are available with NORD nsd tupHTM sealed surface conversion for wash-down and extreme environments.