LONG BEACH, Calif., Feb. 4, 2016 /PRNewswire-USNewswire/ -- After nearly 100 years as the go-to material in aerospace construction, aluminum is facing competition from composites and other advanced materials. Starting Monday, attendees of SME's annual AeroDef Manufacturing with Composites Manufacturing technical conference and exhibition will see first-hand the advanced materials powering today's revolutions in aerospace construction. Running from Feb. 8 to 10 at the Long Beach Convention Center, the event brings together factory tours, expert-led panel discussions and technical sessions as well as an exhibit floor.

The emergence of drones and other unmanned aerospace applications are allowing increased experimentation of new structural materials, further fueled by the increasing specialization of aircraft. These are just a few of the current structural and material trends that will be explored in sessions - including The Future of Structural Materials: 20 Year Horizon - throughout the three-day event.
"Today's use of structural materials in drones and unmanned vehicles will expand demand, competition and markets, and accelerate the integration of new technology," shared AeroDef panelist Richard A. Vaia, PhD, technology director, Functional Materials Division, Materials and Manufacturing Directorate at the Air Force Research Laboratory (AFRL/RXA). "Events such as AeroDef allow researchers, manufacturers and industry experts to connect face-to-face and explore the changes underway in the industry."
Development of the event's content and features is supported by industry leaders from Northrop Grumman Aerospace Systems, The Boeing Company, Bell Helicopter, Lockheed Martin Aeronautics and NASA who serve as part of the executive committee.
"The aerospace and defense market is one of the most critical and technologically advanced industries in the U.S.," said Dave Morton, event manager of AeroDef for SME. "SME is committed to providing this industry with the knowledge and hands-on experience with the latest advancements necessary for success."
To learn more about AeroDef Manufacturing and Composites Manufacturing, visit aerodefevent.com. There, you can view the event schedule and see the list of exhibitors. Get involved in the conversation before the event by following @AeroDefMfg on Twitter or joining the discussion on LinkedIn.
About AeroDef Manufacturing
AeroDef Manufacturing is a leading technical conference and exposition for the aerospace and defense manufacturing industry. Produced by SME, in partnership with industry OEMs, its mission is to foster innovation across the extended enterprise to reduce costs, expedite production times and maintain U.S. competitiveness in the global economy. Learn more at aerodefevent.com.
About SME
SME connects all those who are passionate about making things that improve our world. As a non-profit organization, SME has served practitioners, companies, educators, governments and communities across the manufacturing spectrum for more than 80 years. Through its strategic areas of events, media, membership, training and development, and the SME Education Foundation, SME is uniquely dedicated to the advancement of manufacturing by addressing both knowledge and skill needs for the industry. Follow @SME_MFG on Twitter or facebook.com/SMEmfg.
Featured Product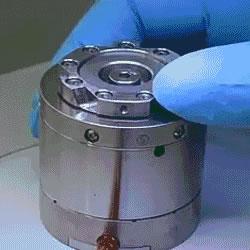 A traditional gantry system employs X-Y or X-Y-Z range of motion. Mounted on a base plate, usually granite, 2 parallel rails constitute the synchronized Y axis motion while the cross axis (bridge axis) provides the X motion. A vertical axis can be added on the bridge for the Z motion. A Split Bridge system can be less complex than a traditional gantry system because synchronization of the two parallel linear motors is not required. Both systems are used in industrial production, testing, and additive manufacturing.