 Machine vision applications on the ARM 64-bit platform  Much faster imaging algorithms
Munich, February 2, 2016 - MVTec Software GmbH (www.mvtec.com) has successfully tested HALCON, the standard machine vision software, on DragonBoard using the board's native 64-bit instruction set. The tests were performed on a DragonBoard using a quad-core ARM Cortex A53 processor. Compared to 32-bit ARMv7 code running on the same hardware, the 64-bit operating mode of the ARM Cortex A53 processor can speed up vision algorithms such as shape-based matching by as much as 40 percent. The availability of HALCON Embedded for DragonBoard will enable high-performance machine vision applications to take full advantage of the 64-bit ARMv8 architecture. MVTec offers to port HALCON Embedded to customer hardware on request, taking into account the customers' specific requirements.

64-bit architectures such as ARM Cortex A53 are increasingly becoming standard. Due to the many benefits of this technology, a wide range of newly developed smartphones are equipped with modern 64-bit processors. The use of DragonBoard is just as widespread. Due to its compact dimensions and low energy consumption, it is predestined for use in mobile environments. The board is therefore used for embedded systems not only in cell phones but also in all conceivable smart devices such as cameras and handhelds — for personal computing as well as in company production and logistics processes.
Faster machine vision saves money
"By porting HALCON to DragonBoard, we take into account the growing importance and widespread use of 64-bit processors. Customers can address us with their very specific requirements. We then provide them with a solution that is tailored to their exact needs. Companies will thus be able to significantly speed up their machine vision processes. Certain applications can also impressively increase their performance on mobile devices. Examples include smartphone-based identification of components, which simplifies processes such as the maintenance of industrial plants and thereby cuts costs," explains Johannes Hiltner, Product Manager HALCON at MVTec Software GmbH.
The press release and images can be found at https://www.mvtec.com/company/press-room/press-release/detail/mvtec-ports-halcon-to-dragonboard/.
About HALCON
HALCON is the comprehensive standard software for machine vision with an integrated development environment (IDE) that is used worldwide. It enables cost savings and improved time to market: HALCONs flexible architecture facilitates rapid development of machine vision, medical imaging, and image analysis applications. HALCON provides outstanding performance and a comprehensive support of multi-core platforms and special instructions sets like AVX2, as well as GPU acceleration. It serves all industries, with a library used in tens of thousands of applications in all areas of imaging like blob analysis, morphology, matching, measuring, identification and 3D vision. HALCON secures your investment by supporting a wide range of operating systems and providing interfaces to hundreds of industrial cameras and frame grabbers, also for standards like GenICam, GigE Vision, and USB3 Vision. www.halcon.com
About MVTec
MVTec is a leading manufacturer of standard software for machine vision. MVTec products are used in all demanding areas of imaging: Semi-conductor industry, web inspection, quality control and inspection applications in general, medicine, 3D vision and surveillance. MVTec, with its head office in Munich (Germany), has more than 30 established distributors worldwide and in addition, MVTec, LLC works out of Boston, MA (USA). www.mvtec.com
Featured Product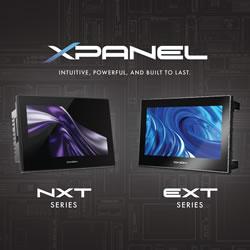 CIMON-XPANEL is a Windows CE based HMI unit. A combination of software and hardware, suitable for various monitoring needs within industrial sites.