"We're discussing ways CHGT's capabilities and expertise can help them greatly improve their current inefficient production methods,"
HOUSTON--(BUSINESS WIRE)--Changing Technologies, Inc. (OTCQB: CHGT) is talking with a large-scale production company to provide 3D printing/additive manufacturing services that would help the fabricator simplify its process and make its production pipeline more efficient.

"We're discussing ways CHGT's capabilities and expertise can help them greatly improve their current inefficient production methods," said company CEO Marco Valenzuela. "Right now, their system has some bottlenecks we can untangle for them by providing outside turnkey 3D printing and additive manufacturing services for both large-scale and small projects. This will allow them to become more efficient, turn out more products in less time and add new revenues to our bottom line. It's a scenario where everyone comes out ahead."
Valenzuela said the manufacturer turns out a variety of popular products, ranging from toys to accessories to household items.
"They're quite interested in using 3D printing/additive manufacturing in their production process, which is why our expertise is so appealing to them," Valenzuela said. "This has the possibility of growing into a long-term, mutually beneficial partnership."
This latest move gives validation to CHGT's recently announced plans to invest in new 3D printing equipment. A technology survey has found that two out of every three industrial manufacturers are using or want to use 3D printing.
For more information on CHGT, please visit www.changingtechno.com.
For more information on 6th Dimension Technologies, visit http://www.6d3d.com.
About Changing Technologies, Inc.
Changing Technologies, Inc. (CHGT) is an emerging technology company focused on developing innovative concepts to bring to consumers. It recently created a new subsidiary — 6th Dimension Technologies — to pursue additional growth areas and market needs in the booming 3D printing sector. A forward-thinking company working to be at the forefront of the next generation of consumer-based technology, CHGT is positioning itself to leverage global demand for the latest technological advances and services the company offers. Changing Technologies, Inc. is in the cutting-edge technology sphere alongside companies like Voxelijet AG (VJET), Arcam AB (AMAVF), and ExOne Co. (XONE).
Featured Product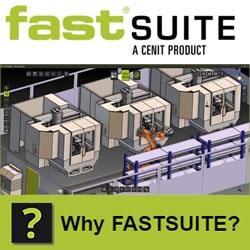 With two product lines, FASTSUITE for V5, which is seamlessly integrated with CATIA/DELMIA V5, and FASTSUITE Edition 2, a standalone platform, the areas of OLP (offline programming), manufacturing simulation and virtual commissioning are the core of our business activities. Our applications and solutions are not only focused on real customer needs, but they are also designed to improve efficiency and quality of our customers' manufacturing processes. No matter if the process is just about offline programming of a single robot at a small job-shop company or about the validation of a complete production line at an Automotive or Aerospace OEM. We strive to ensure a constant quality of our services and to provide the best possible support to our worldwide customers. Therefore we have established three digital manufacturing hubs around the world. All our teams have a proven expertise on manufacturing process integration and profound IT implementation skills.