Announcing latest version of the Cryptosoft data-centric security platform: Version 4.0 provides the cost-effective enterprise security solution needed to enable the rapid growth of the Internet of Things
BRACKNELL, England--(BUSINESS WIRE)--Cryptosoft, the leader in policy driven authentication and encryption services for connected Internet of Things (IoT) and Machine-to-Machine (M2M) devices, today announced the availability of the latest version of the Cryptosoft platform. With this release, Cryptosoft brings to market a solution that meets the needs of enterprises seeking to deploy manned and unmanned IoT and M2M devices for mission critical business and consumer uses.

In recent months, numerous headlines have questioned whether reliable security solutions for the IoT and M2M devices can be developed, and whether viable solutions will be cost prohibitive. With today's announcement, Cryptosoft eliminates these concerns.
Cryptosoft's industry leading solution now offers the five central elements needed by enterprises to deploy secure, products and services based on the IoT and M2M devices:
1. Policy driven security around the authentication of the user accessing the data
2. Strong encryption around the transmission and storage of IOT and M2M data within enterprise networks
3. The ability to deploy this security solution with all types of devices (a device agnostic solution)
4. The ability to provision and update software and devices Over the Air (OTA) or Over the Internet (OTI)
5. An enterprise offering that is available at a cost-effective price.
Version 4.0, available today, extends Cryptosoft's market-leading, policy-based authentication and data protection technology to support unique device derived key management capabilities from Device Authority, Inc. By adding support for Device Authority's D-FACTORtm as an option within the Cryptosoft platform, customers are now able to authenticate and transparently encrypt data payloads, including those from unmanned devices, from the edge of the IoT and M2M ecosystems, right back to the relevant, mission critical application.
The Cryptosoft platform is device agnostic and allows customers to add their, policy driven, data encryption services to their existing IoT and M2M workflows without re-wiring applications or current data flows.
"With today's announcement, we are solving a critical industry problem." said Darron Antill, CEO of Cryptosoft. "The many benefits promised by Machine-to-Machine communications and the Internet of Things will not be held back by security concerns. The era of cost-effective, reliable enterprise security, for the IoT and M2M market has now arrived."
"Our premise has always been that application developers and network administrators must be able to secure data and devices across the IoT and M2M ecosystems in a way that isn't confined by the approaches associated with traditional PKI architectures," said Jon Penney, CTO and Founder, Cryptosoft. "By managing and distributing keys with easy scalability, the Cryptosoft platform, now incorporating the Device Authority technology, is a game changing solution to this problem."
"We are very excited about this important integration with the Cryptosoft platform. By offering our D-FACTORtm core authentication components Cryptosoft customers have the ability to deploy the strongest security posture around the two principal areas recognized as potential IoT and M2M vulnerabilities; Devices and Data," said Talbot Harty, CEO of Device Authority.
About Cryptosoft
Cryptosoft's data security platform solves the data security & authentication challenges for the Internet of Things (IoT). Its software platform significantly reduces the end-to-end attack surface, protecting critical company and customer data assets. The Cryptosoft platform provides transparent protection of data at rest and in transit across any platform, device and service, delivering end-to-end protection of critical data. With offices in San Francisco, California and Thames Valley, UK Cryptosoft partners with the leading IoT ecosystem providers, including wot.io and ThingWorx, providing highly scalable data protection security solutions for the Internet of Things. (www.cryptosoft.com)
Featured Product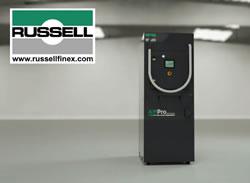 The Russell AMPro Sieve Station™ guarantees the quality of your additive manufacturing (AM) powder, and has been designed to provide optimum sieving efficiency, ensuring your powder is ready for use or reuse as and when you require it. With a simple one-button operation and mobile design, this automated check screener ensures your powder at every stage of the process is qualified for use quickly and safely. The flexibility of the Russell AMPro Sieve Station™ means you can use the system for numerous powder handling tasks - being a modular design ensures the machine can be configured to meet your exact requirements.