GSC Partners with Dassault Systèmes to Add SIMULIA to its Simulation Solution Offerings
Graphics Systems Corp. (GSC), a leading provider of 3D engineering software, training and consulting, announces the expansion to its solution portfolio with SIMULIA, a powerful and complete simulation tool from Dassault Systèmes. Provided by Graphics Systems' GSC Enterprise Solutions division, the SIMULIA product line offers advanced solutions for performing virtual testing with realistic simulation. Simulation has become a critical part of the product development process, as it helps organizations lower costs by reducing physical prototypes and identifying potential problems early in the development process.

"We're very excited to bring SIMULIA's advanced analysis tools to our customers," says Madhav Puppala, Director of Simulation Products & Services at GSC. "The SIMULIA product line offers a lot of new capabilities like topology optimization, low-cycle fatigue, and difficult-to-characterize materials like foams, concrete and many other materials."
These new applications are a natural complement to the elements currently found in the SOLIDWORKS Simulation suite. "SOLIDWORKS Simulation is a great tool for its ease-of-use and the speed at which analyses can be setup. When you have some highly non-linear problems that require a little more under the hood, that's where SIMULIA comes in," states Puppala.
Designers, engineers, and researchers in a broad range of industries use SIMULIA's scalable simulation solutions. The Abaqus product suite from SIMULIA has long been the best-in-class Finite Element Analysis (FEA) and multiphysics solution for insight into challenging engineering problems. The SIMULIA portfolio also offers state-of-the-art technology in topology, shape, bead and sizing optimization (Tosca), fatigue analysis (fe-safe) as well as simulation automation and parametric optimization (Isight). SIMULIA is available now to purchase through GSC.
GSC will showcase the SIMULIA product line in a complimentary webinar on January 14, 2016 at 10:00 AM (CST). To learn more and register, please visit http://www.gxsc.com/webinars or call 800-454-2233.
About GSC Enterprise Solutions
GSC assists companies in implementing 3D engineering capabilities for design, simulation, data management, technical documentation, and 3D printing. Their GSC Enterprise Solutions division is an expert team dedicated to providing customers with advanced, enterprise solutions to engineering problems. The team has over 50 years of experience in non-linear and advanced simulation for companies like General Motors and Steelcase. Additionally, GSC provides engineering analysis and consulting services to help companies test, analyze, and modify product designs.
For more about GSC and to learn more about our support offerings, please visit our website, http://www.gxsc.com, or call 800-454-2233.
About Dassault Systèmes
Dassault Systèmes, the 3DEXPERIENCE Company, provides business and people with virtual universes to imagine sustainable innovations. Its world-leading solutions transform the way products are designed, produced, and supported. Dassault Systèmes' collaborative solutions foster social innovation, expanding possibilities for the virtual world to improve the real world. The group brings value to over 190,000 customers of all sizes, in all industries, in more than 140 countries. For more information, visit http://www.3ds.com.
Featured Product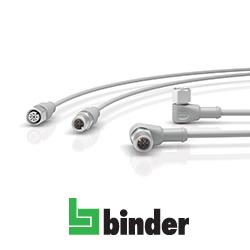 binder USA, LP, has expanded the M12 product family with the addition of the M12 A-Coded Connector, which is now certified for both Ecolab and FDA Code of Federal Regulations (CFR) Title 21 standards. The M12 A-Coded connectors are extraordinarily durable and IP69K-rated, ideal for harsh-duty and washdown applications in the food and beverage, pharmaceutical, and chemical industries. Available in 3, 4, 5, 8, and 12 contacts, the high quality stainless steel locking rings (V4A) and gold contact plating can also withstand UV exposure and shock and vibration.