ExactFlat flattening solutions for industrial fabrics, carbon fibre composites, and stamped sheet now available via the OnShape Apps Store.
TORONTO, Dec. 15, 2015 -- The leader in pattern and blank creation, partners with the leader in 3D CAD in the cloud

ExactFlat, a leader in 3D to 2D flattening software, today announces the availability of an integrated solution to bring their capabilities to the rapidly growing community of Onshape users. This combination:
* Merges the design and production automation of soft goods,
* Eliminates high upfront product and training costs associated with previous solutions,
* Allows everyone on a design team to work together via a web browser, phone, or tablet.
Increasing profitability for soft goods and stamped metal fabricators.
With the combination of ExactFlat and OnShape, manufacturers and fabricators of industrial fabrics, carbon fibre composites, and stamped sheet metal will convert their 3D design into patterns and blanks in minutes. This significantly improves productivity, reduces time to market and virtually eliminates physical prototyping cost.
Moving First and Fast
"We are delighted to be working with OnShape as they have a clear vision for the future of CAD, and a strong commitment to move first and move fast" said Eaton Donald, CEO of ExactFlat. "User innovation continues to inspire us as they find new ways to collaborate on the design and development of products. Our vision is to eliminate the barriers to innovation and we will continue to aggressively partner with other industry leaders to make that a reality."
Designers and Production Managers of companies fabricating Soft Goods or Stamped Metal parts can visit www.exactflat.com/onshape to learn more and test the solution. The ExactFlat Plugin for Onshape is currently in private beta. Manufacturers interested in participating in the beta testing program can request an invitation at onshape.com/app-store-beta.
Featured Product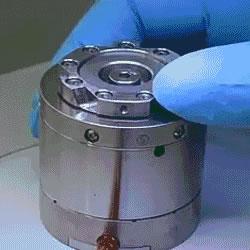 A traditional gantry system employs X-Y or X-Y-Z range of motion. Mounted on a base plate, usually granite, 2 parallel rails constitute the synchronized Y axis motion while the cross axis (bridge axis) provides the X motion. A vertical axis can be added on the bridge for the Z motion. A Split Bridge system can be less complex than a traditional gantry system because synchronization of the two parallel linear motors is not required. Both systems are used in industrial production, testing, and additive manufacturing.