Titan Robotics largest 3D Printer increases build space to 36x36x48 inches; pushes the envelope with heated enclosures
Colorado Springs, CO December 14, 2015 -- Titan Robotics is pleased to announce the Atlas 2.0. At the core of Titan Robotics mission is an effort to work towards continuous improvement and manufacture the highest quality large scale 3D printers possible. Since the inception of their large format 3D printer, The Atlas, over a year and a half ago, Titan Robotics has rigorously tested their machines and has made many improvements to an already proven machine.

This new production option for the customer is a truly bombproof large format 3D printer which utilizes the same quality of components with upgrades in CNC milled components, scorching hot heated beds, Yaskawa AC Servos, high temperature lubricants, and the utmost in free, 24/7 customer service.
The most requested feature which was added by Titan Robotics was the optional heated steel enclosure. This industrial steel enclosure will attain constant temperatures of up to 85°C. A machine with an enclosure was recently installed at a customers facility in Brooklyn, NY and has been making ABS parts for them without flaw. To date, this is one of the largest FDM 3D printers available today which includes an enclosure.
"Our customers need these machines for industrial production capabilities with ABS, and we provided a real solution to creating large format ABS parts without warping at any height," explains Clay Guillory, CEO and Founder of Titan Robotics. "Government contractors, manufacturing shops, universities and 3D print shops are coming to us because they are looking for a machine that is tried and tested and will print 200+ hour print jobs consistently."
From below zero Colorado temperatures to heated enclosures that top out at 85 degrees C, Titan Robotics machines have been undergoing constant usage in a variety of industries and environments. As a result, Titan Robotics is striving to find ways to push the envelope in the large format 3D printing industry by responding to customer feedback. Their goal is to meet the industrys demand for an industrial machine which will perform all day, every day.
Another big change brought about by Titan Robotics is a new, bigger standard size. Titan Robotics now offers a 36x36x48 inch build space along-side their previous 30x30x45 inch machine. Additional improvements include the option to add dual extruders to increase the functionality of the machine.
Titan Robotics is also excited to announce their debut at the most influential trade show of the year, the Consumer Electronics Show (CES) in Las Vegas January 6-9th. Titans booth is number 72712 at the Sands, Hall A-C in the 3D printing marketplace. An invitation is extended to anyone interested in stopping by to look at Titans 3D printers, and to meet Clay Guillory and the Titan Robotics team.
About Titan Robotics
Titan is at the forefront in expanding industrial use of large format 3D printing. Our passion is to build the highest quality 3D printers that will last a lifetime. A startup out of Colorado, we're helping companies across the country use large format 3D printing to create new products and ideas.
Featured Product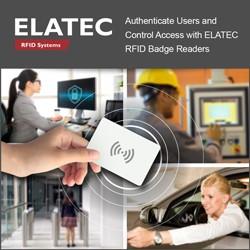 With a tap of the badge, RFID readers from ELATEC provide secure, reliable and easy-to-use user authentication, access control and usage tracking of hardware and software in industrial automation processes. Reader durability in harsh plant floor environments is another essential feature. Choose the right authentication and access control solution and extend RFID card-based capability for the access control of PLC, robot and HMI automation controller software and devices requiring special operator training.