The PartnerNetwork program is a team of leading suppliers, distributors, system integrators, and machine and equipment builders.
A Connected Enterprise taps the Internet of Things (IoT) and new technology to optimize production and maximize automation technology investments. Manufacturers can modernize to a connected production infrastructure with greater ease and security when they have access to proven technologies and support. To meet this need, the Rockwell Automation PartnerNetwork program has expanded with 10 new partners and one global expansion among existing partners.

The PartnerNetwork program is a team of leading suppliers, distributors, system integrators, and machine and equipment builders. Its purpose is to help industrial companies better solve their manufacturing and automation challenges. As companies look to seamlessly and securely converge IT and control systems to build Connected Enterprises, the PartnerNetwork program helps simplify the supply chain, contributes to innovation in project design, and improves collaboration among suppliers.
Four new companies have joined the OEM Partner program from the North American and EMEA regions. Our OEM Partner members, including machine and equipment builders, are committed to providing high-quality, innovative technology that uses Rockwell Automation solutions to give customers a competitive advantage. New OEM Partners include:
* DE-STA-CO (North America) produces the CAMCO line of industry-leading cam-actuated motion control products. The company is a leader in the innovation, design, manufacture and support of clamps, grippers, indexers, slides, conveyors, robotic tooling and remote-handling products serving customers worldwide.
* PFM Packaging Machinery (Italy) designs, builds and delivers flow-wrapping and vertical form-fill-seal machines with a variety of custom, automatic feed systems and the ancillary equipment. Machines are used primarily in the food industry, including cheese, meat, confectionery, bakery goods, and fruit and vegetable production, as well as in pharmaceutical and cosmetic packaging.
* Pulsar (Italy) is a leading provider of engineering and manufacturing solutions for the packaging, tissue, food, pharmaceutical and automotive industries. The company focuses on conveying and handling systems, wrapping machines and inspection machines.
* UZER MAKINA (Turkey) has been serving the tire industry for over 30 years. The companys hydraulic and mechanical presses for tire curing, container mechanisms and tire molds are employed by the worlds leading tire manufacturers.
Six new members and one Rockwell Automation Encompass EMEA Partner have joined the Encompass Partner program in the Americas. Through the Encompass Partner program, customers can quickly locate the products that best solve their application challenges. These products provide additional functionality, and enhance and extend Rockwell Automation solutions.
New Encompass Partners joining the Americas region:
* exida Consulting LLC offers companies around the world help and guidance related to functional safety, alarm management and cybersecurity. The companys unique combination of technical depth and hands-on experience provides practical solutions to address the most difficult challenges.
* NK Technologies is focused on developing and manufacturing innovative, cost-effective current-sensing products designed to add value and to meet or exceed customer performance expectations.
* Prozess Technologie enables its customers to understand and control their manufacturing processes in real time. The company creates intelligent process analytical systems to increase quality, yield and productivity while reducing risk and downtime in the manufacturing environment.
* SAS is the leader in business analytics software and services, and the largest independent vendor in the business intelligence market. Through innovative solutions, SAS helps customers at more than 75,000 sites improve performance and deliver value by making better decisions more quickly.
* Symantec Corporation is an information protection expert that helps people, businesses and governments. Operating one of the largest global data-intelligence networks, Symantec provides leading security solutions for where information is stored, accessed and shared.
* Tempered Networks offers a proven approach to safeguarding critical control networks, assets and devices. The company achieves military-grade security for control systems and devices that cannot protect themselves while making them invisible to all but trusted (whitelisted) personnel and devices.
Joining the Americas region from the EMEA region:
* CEA Systems is a leading engineering software developer with a focus on plant design and plant life-cycle management. CEA Systems offers advanced plant-engineering solutions developed from an engineer's perspective to give accurate results and a rapid return on investment.
About the Rockwell Automation PartnerNetwork Program
The Rockwell Automation PartnerNetwork program offers global manufacturers access to a collaborative network of companies mutually focused on developing, implementing and supporting best-in-breed solutions to achieve plantwide optimization, improve machine performance, and meet sustainability objectives.
Featured Product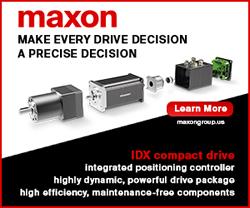 maxon motor launches new high-speed motors that are configurable online. The new ECX brushless motors are quiet and feature very high efficiency. The ECX motors are available with diameters of 8, 16 and 19 mm achieving speeds of up to 120,000 rpm. They run very smoothly and are highly efficient. With maxon motor's online configurator, it is easy to put together a customized DC motor to include gearhead, encoder and controller. The customized motors are ready to ship in 11 days!