Local high school students toured Okuma facilities to learn about CNC manufacturing, innovative machining technology and career paths.
CHARLOTTE, N.C. (October 7, 2015) - Okuma America Corporation, a world-leader in CNC machine tool manufacturing, and Siemens, one of the world's largest producers of energy- efficient, resource-saving technologies, partnered to host Manufacturing Day 2015 on Friday, October 2, 2015, in Charlotte, North Carolina at their respective facilities. Manufacturing Day is a nationwide celebration meant to inspire the next generation of manufacturers and dispel the myths associated with manufacturing.

Okuma opened their doors and welcomed 150 students from six area schools in North and South Carolina, showing them what CNC manufacturing is all about and the various careers in the industry. The students and teachers discovered how manufacturing touches almost every aspect of their daily life - from the clothes they wear to the food they eat.
Students visited multiple stations at Okuma, learning about innovative technology in the aerospace and automotive industries, robotics, engineering and the multitude of career path options. They experienced hands on interaction with robots and virtual reality technology and were able to see live cutting demonstrations on state-of-the-art CNC machine tools including one station that produced custom-cut coasters for each student.
"Manufacturing Day was a success at Okuma, not just in the number of students that attended the event, but in the overall enthusiasm that was generated by the students as they learned about the potential careers that exist for them in manufacturing. With a lack of skilled workers coming into the industry, events like Manufacturing Day allow Okuma to play a part in developing a skilled workforce while inspiring passion for the manufacturing industry," said Brittany Russell, Okuma Training Program Manager.
Okuma's Manufacturing Day was a group effort that included several of Okuma's Partners in THINC members, CU-ICAR students (Clemson University International Center for Automotive Research) and more than 20 percent of Okuma's staff to make this special daylong event a huge success.
For detailed information about the nationwide Manufacturing Day event visit http://www.mfgday.com/. For more information on Okuma America Corporation visit http://www.okuma.com/ and to learn more about Siemens visit http://www.usa.siemens.com/entry/en/.
About Okuma America Corporation
Okuma America Corporation is the U.S.-based sales and service affiliate of Okuma Corporation, a world leader in CNC (computer numeric control) machine tools, founded in 1898 in Nagoya, Japan. The company is the industry's only single-source provider, with the CNC machine, drive, motors, encoders, and spindle all manufactured by Okuma. The company also designs their own CNC controls to integrate seamlessly with each machine tool's functionality. In 2014 Okuma launched the Okuma App Store, the industry's only centralized online marketplace for machine tool apps and related content. Along with its extensive distribution network (largest in the Americas), and Partners in THINC, Okuma is committed to helping users gain competitive advantage through the open possibilities of machine tools, today and into the future. For more information, visit http://www.okuma.com or follow us on Facebook or Twitter @OkumaAmerica.
Siemens in Charlotte
Siemens in Charlotte is one of the lead facilities in the company's global manufacturing network and serves as the worldwide hub for Siemens 60 Hz large power generating equipment. Opened in 1969, the facility has manufactured and serviced generators and steam turbines for the power generation market for decades. In November 2011, the facility celebrated the opening of a new expansion, adding gas turbine production and service capabilities. The new Gas Turbine facility was designed based on LEAN manufacturing principles and is certified to U.S. LEED Gold green building standards. With its current workforce of 1,600 and more than one million square feet of space under roof, Siemens Energy in Charlotte has become one of the largest manufacturers in the city and also one of the largest among the 250+ Energy companies based in Charlotte. Further information is available at: http://www.siemens.com/energy/charlotte
Featured Product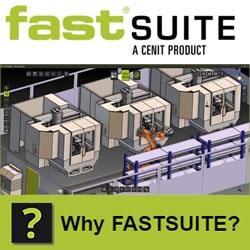 With two product lines, FASTSUITE for V5, which is seamlessly integrated with CATIA/DELMIA V5, and FASTSUITE Edition 2, a standalone platform, the areas of OLP (offline programming), manufacturing simulation and virtual commissioning are the core of our business activities. Our applications and solutions are not only focused on real customer needs, but they are also designed to improve efficiency and quality of our customers' manufacturing processes. No matter if the process is just about offline programming of a single robot at a small job-shop company or about the validation of a complete production line at an Automotive or Aerospace OEM. We strive to ensure a constant quality of our services and to provide the best possible support to our worldwide customers. Therefore we have established three digital manufacturing hubs around the world. All our teams have a proven expertise on manufacturing process integration and profound IT implementation skills.