New and emerging sensing technologies with applications as diverse as neurosurgery and crop optimization will be advanced through conferences at SPIE Defense and Commercial Sensing in April. The wide-ranging applications demonstrate the continuous growth of technologies such infrared, laser, terahertz, and multi- and hyperspectral imaging into new commercial applications.
BELLINGHAM, Washington, USA October 07, 2015

Practical, new sensing technologies enabling wide-ranging applications such as increasing crop productivity, improving neurosurgery, and delivering groceries by drone will be among topics at SPIE Defense and Commercial Sensing in Baltimore 17-21 April 2016. The event includes technical conferences, an education program, and an exhibition, and is sponsored by SPIE, the international society for optics and photonics.
The long-standing meeting is the largest event for the defense and security community's optics and photonics technology, including infrared cameras, lasers, spectroscopy, 3D imaging, plus terahertz, and multi- and hyperspectral imaging.
This year, conferences are organized into two tracks, Defense and Security, and Commercial and Scientific Sensing and Imaging.
The event's new name for 2016 reflects the growing commercial application of optical technologies initially developed for defense into new applications for commercial products, industrial inspection such as machine vision or quality control, and scientific research capabilities.
Conferences on Sensors for Next-Generation Robotics — in its third year — and Autonomous Air and Ground Sensing Systems for Agricultural Optimization and Phenotyping — new this year — serve as examples of helping robots "see" and "feel."
The robotics conference will look at next-generation sensors, sensor packaging, and sensor miniaturization. Topics will include both vision-based optical sensors, such as those used in cameras and lidar systems, and direct-contact and pressure sensors, with applications such as in robot "skin," said Dan Popa, of the University of Texas at Arlington who chairs the event with UT Arlington colleague Muthu Wijesundara.
"Applications where new, more intelligent robots are needed cut across all dimensional scales and industrial sectors," Popa said. "The scope of the conference will include emerging applications in micro- and nanosystems and devices, including for new robotics in commercially viable areas such as home management, healthcare in hospitals and assisted-living facilities, search-and-rescue activities in disaster areas, neural surgery, manufacturing, self-driving vehicles, and delivery drones."
Distributed sensors can be envisioned as enhancing perception, cognition, and control capabilities of next-generation robots, Popa noted. "One exciting next-generation application is endowing humanoid robots with perception capabilities comparable with those of humans, including distributed touch through robotic skin, hearing, and vision, but also super-human perceptions, such as the ability to see in the dark or through objects."
The conference on sensing systems for agricultural optimization and phenotyping is part of a set on industry, environment, and health applications. It will focus on topics such as UAVs (unmanned autonomous vehicles) and spectral imaging devices and cameras for collecting data in research and commercial agricultural settings.
Photonics technologies in agriculture are rapidly emerging as tools to increase food productivity and efficiency, noted chairs John Valasek and Alex Thomasson, both of Texas A&M University.
The world's current population of 7 billion people will increase to 11 billion by 2100, when population growth is predicted to plateau. Meanwhile, land available to agriculture is being reduced by urbanization, road building, and potential climate effects. So, the chairs say, food production per unit area must double in the next 85 years.
Two remedies are available: optimization of crop production through precision agriculture, and crop improvement through breeding and genetics coupled with high-throughput phenotyping. Both require autonomous air and ground sensing systems with an array of photonics technologies.
Conference topics will include:
* Air and ground-based autonomous vehicles for agriculture
* Imaging and non-imaging sensors and agricultural applications
* Theoretical and empirical decision-oriented data-analysis techniques including machine learning.
"The field is in an exciting period of exploration and expansion, as ground- and air-based sensor platforms with highly capable and reliable autonomy now permit highly detailed measurement of plant traits in the field," Thomasson said.
Of particular interest are workflow issues associated with capturing and processing large-volume datasets including multiple data types at various scales, Valasek said. "These would include sensor suites and vehicles that integrate or fuse multiple types of sensors and data (lidar, optical, thermal, spectral, radar, etc), and variable autonomy or re-programmable autonomy for conducting precision agriculture operations."
Other new conferences planned for SPIE Defense and Commercial Sensing 2016 are:
* Tri-Technology Device Refrigeration
* Advanced Optics for Defense Applications: UV through LWIR
* Ultrafast Bandgap Photonics
* Long-Range Imaging
* Anomaly Detection and Imaging with X-rays
* Computational Imaging.
More information is at http://www.spie.org/DCS.
Featured Product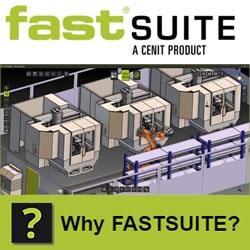 With two product lines, FASTSUITE for V5, which is seamlessly integrated with CATIA/DELMIA V5, and FASTSUITE Edition 2, a standalone platform, the areas of OLP (offline programming), manufacturing simulation and virtual commissioning are the core of our business activities. Our applications and solutions are not only focused on real customer needs, but they are also designed to improve efficiency and quality of our customers' manufacturing processes. No matter if the process is just about offline programming of a single robot at a small job-shop company or about the validation of a complete production line at an Automotive or Aerospace OEM. We strive to ensure a constant quality of our services and to provide the best possible support to our worldwide customers. Therefore we have established three digital manufacturing hubs around the world. All our teams have a proven expertise on manufacturing process integration and profound IT implementation skills.